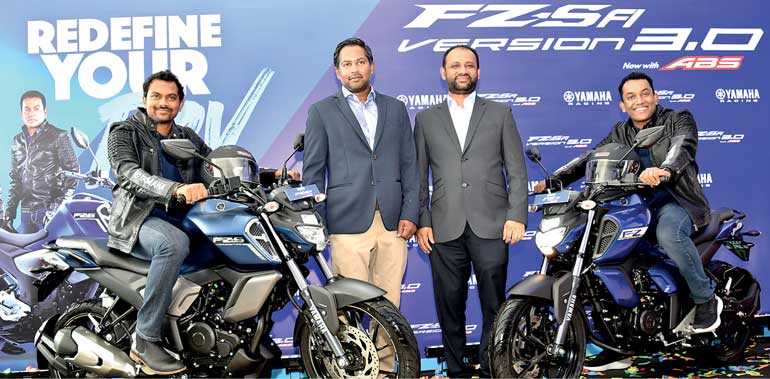 Yamaha AMW, new FZ and FZ – S version 3.0 models being launched by (from left) brand ambassador Santhush Weeraman, AMW Passenger Vehicles Director Yohann De Zoysa, AMW Deputy General Manager Zahran Ziyawudeen and brand ambassador Bathiya Jayakody – Pic by Ruwan Walpola
---
Associated Motorways Ltd., trailblazers in Sri Lanka's automotive segment, on Tuesday launched the Yamaha FZ & FZ – S version 3.0 models to the Sri Lankan market.

"In Sri Lanka in the 150 cc category the Yamaha FZ brand is the No 1 model when compared with other 150 cc models available in the market," said Yamaha Deputy General Manager Zahran Ziyawudeen, speaking at the launch. He said, "The ABS (Anti –Lock Braking System) for riding safety, which prevents the vehicle from skidding and maintains steering control during emergency braking by preventing the wheels from locking up, was an important feature of the new FZ & FZ – S version 3.0 models. The high performance of a maximum torque of 12.8 N-M (1.3KG F-M), a power of 13.2 PS @ 8000 rpm with a very low fuel consumption due to the FI technology, having the lowest weight in the 150 cc category – a mere 137 kgs with improved engine settings that makes the bike even more responsive, thus leading to quick initial pickup and delivering smooth passing acceleration whilst giving the rider the opportunity of riding comfortably even in heavy traffic, the stylish and premium LED headlight which gives superior vision during night riding, the Negative LCD meter, the comfortable two level seat, the newly designed fuel tank which includes air scoop for more air intake, the large 12.8 litre fuel tank, one of the largest in the segment, the main switch position being located on the fuel tank itself making it stylish and premium, less wire harness burden at the handle bars, a stylish and premium rear tyre hugger, easy cold starting in all weather conditions, as well as more power, coupled with fuel economy, and optimised engine settings where the ignition timing and injection maps are re-done, thus giving the rider a feeling of superior acceleration, are just a few of the value added features of these superior motorbikes." Ziyawudeen also said that customers were welcome to do test rides, while attractive leasing arrangements with trade in options were also on offer for both existing as well as new customers of the FZ family.

A highlight of the launch was the appointing of Sri Lanka's popular musical duo Bathiya and Santhush as Brand Ambassadors of these two stylish new motorbikes which rank best in the Upper Executive segment.

Though not present in person, Yamaha Motor Corporation Japan Senior General Manager Ohno Izumi sent a congratulatory message on the occasion of the Sri Lanka launch.

AMW Director (Passenger Vehicles) Yohann De Soyza, said that the 2019 Yamaha FZ V3.0 has received a big update to its powertrain since it was first launched in Sri Lanka in 2009. "Yamaha fans worldwide speak of the style, comfort, power and steady ride, which makes them fall in love with the FZ series. With a legacy of more than a decade, Yamaha motorbikes have proved their mettle and the new FZ series will further establish Yamaha's brand superiority." In Sri Lanka Yamaha enjoys an overall market share of over 20% while in the 150 cc segment they enjoy the Number 1 position with a 50% market share.

"We are confident that with the launch of the 2019 Yamaha FZ-S V3.0 which comes with a host of upgrades, we can further increase our market share," said De Soyza.

"The Yamaha brand symbolises high quality and innovative products, services and corporate activities that reflect Yamaha's commitment to its customers around the world. The mission of the Yamaha brand is to create kando together with their customers, to help enrich people's lives worldwide and to contribute to the communities and cultures we all value. Similarly AMW, established in 1949, and a pioneer in the country's automotive industry, is a household name, synonymous with superior service and product reliability, with more than 69 years of service experience," said Group Managing Director Brandon Morris, speaking at the event.

The Yamaha FZ & FZ – S version 3.0 models will be available island-wide via Yamaha's 235 plus sales dealers, with after sales services and spare parts also being available island-wide.

Attractive leasing terms have also been arranged. The FZ version 3.0 is available in two colours namely Racing Blue and Metric Black, while the FZ-S version 3.0 is available in three colours Dark Mat Blue, MAT Black, Grey and Cyan Blue.