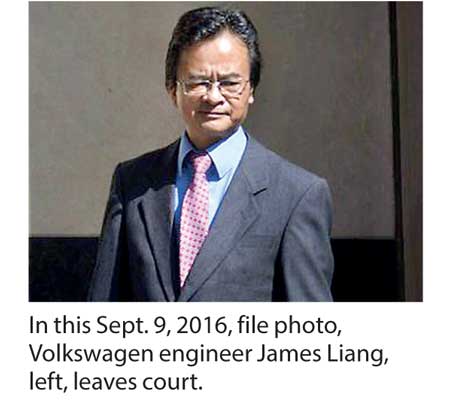 Washington/Detroit (Reuters): A federal judge in Detroit sentenced former engineer James Liang to 40 months in prison for his role in Volkswagen AG's multiyear scheme to sell diesel cars that generated more pollution than US clean air rules allowed.

Liang pleaded guilty earlier this year to misleading regulators, and had cooperated with US law enforcement officials investigating Volkswagen.

Prosecutors last week recommended that Liang, 63, receive a three-year prison sentence, while his lawyers said a sentence of home detention was appropriate.

US District Court Judge Sean Cox told Liang at a hearing he was part of a long-term conspiracy that perpetrated a "stunning fraud on the American consumer. This is a very serious and troubling crime against our economic system." Cox also ordered Liang to pay a $ 200,000 fine, 10 times the amount sought by federal prosecutors. The prison sentence was also longer than the three years prosecutors recommended. Cox said he hoped the prison sentence would deter other auto industry engineers and executives from similar conduct.

Liang could appeal the sentence, Cox said.