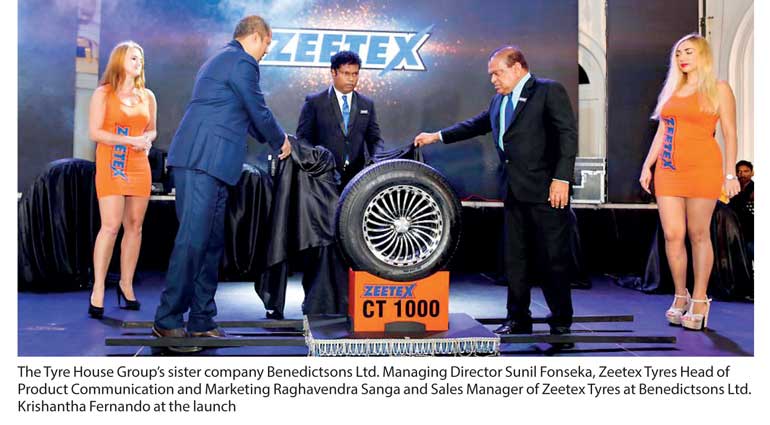 Tyre House Group's sister company Benedictsons Ltd. last week launched a new tire range, the Zeetex brand.

The launch was hosted for more than 100 guests across the country. The event's Chief Guest was Head of Product Communication and Marketing Raghavendra Sanga flanked by Guests of Honour Sales Manager Santosh Gupta and Service Assistant Technical Manager Mallesh Kumar Kanchari. The Zeetex product range was unveiled at the presentation ceremony.

Zeetex has a presence in around 80 countries across six continents, creating a bond between the vehicle and the road. The product range covers different categories and offers a wide variety of unique patterns and features with multiple benefits to the customers in their respective applications. Zeetex products are suitable for on- and off-road driving, high-speed driving as well as for industrial operations. Since its launch in 1993, Zeetex has developed a strong reputation for quality assurance, safety compliance with environmental requirements and holds an impressive series of quality assurance certifications.

It has a warehouse inventory of more than 1 million Zeetex units and a workforce of more than 300 professionals. Zeetex's level of business certainly makes it an international company. It recognises the power of 'Growing Together' with its employees, customers, principals, communities, other stakeholders and this is what enables 'Zeetex' to keep moving forward.

Leading Zeetex importers cater to the needs of many hundreds of customers worldwide. Zeetex has done tremendously well in the last two decades to build the business globally. It owns one of the biggest warehousing networks and boasts of having one of the largest tire distribution centres. Zeetex is produced in Indonesia and is exported to the US and Russia as well as to a number of other countries in Africa and Europe.