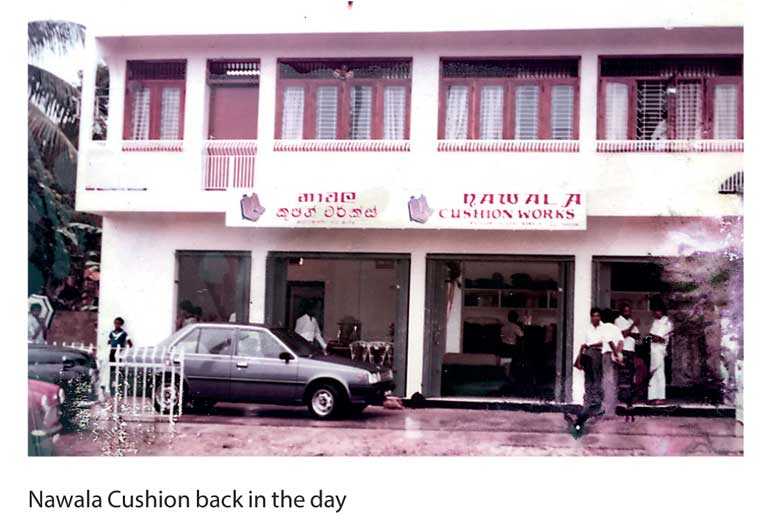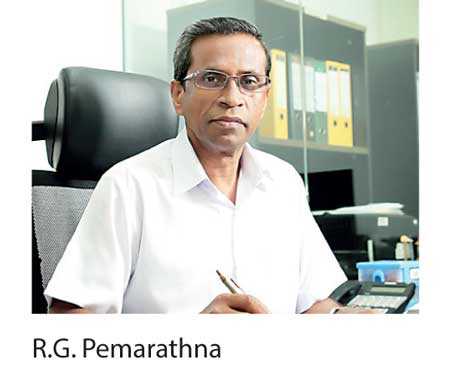 Forty years ago, one day in 1978, a young man named Pemarathna started a small cushion shop at No. 59 A, Narahenpita Road, Nawala. This small shop with the area of 15 x 20 ft. which he took for rent, had only one sewing machine.

As an opening order, he cushioned four seats of an E.L Volkswagen and kept it in front of his shop to make a glare with the shining sun. These finely cushioned seat covers drew the attention of the vehicle owners who were passing by. Gradually this small cushion shop got orders. After three months, this small cushion shop converted to a small-scale business with the assistance and appreciation of the customers.

After three months, seeing the growth of his business, the idea of keeping a name for the business came into R.G. Pemarathna's mind. What can it be? What is the specialty of Nawala? Even though Nawala is famous for pineapple, the real picture is not the same. So is Kotte for oranges. No pineapples or oranges were grown in these areas. So why call Nawala with something which is not existing? Then he decided to call the cushion shop 'Nawala Cushion Works' as it will always be in the mind of the people along with Nawala.

Starting its journey as Nawala Cushion works, this small-scale business developed day by day. It was the era of open economy introduced to our country and with the removal of barriers for business, loads of new vehicles were imported to Sri Lanka.

By about 1980s, with the massive assistance from his team working day and night, Pemarathna was able to finish 20-30 seat cover sets per day. Moreover, he could finish four vans per day fixing complete sets of seats. Not stopping from this point, they started providing carpets, mud covers, dashboard covers and laminating the door board to improve the interior safety of the vehicle which was also paid high attention from his staff. At this time, Pemarathna's number of staff members were more than 160.

With the emerging need of vans for tourism, Nawala Cushion Works was able to provide much luxurious and modern service to cater to this need. Introducing comfortable luxurious seats to the market, the orders for Nawala Cushion Works raised rapidly.

Importing Recklinenin and headrest, Pemarathna started producing seat frame to complete comfortable seats.

During this time, seats of cars and jeeps were made from velvet materials. But many luxurious vehicle owners preferred leather seat covers. But the huge tax amount put a burden on importing this leather seat covers. This was the time that Nawala Cushion Works started producing the leather seats for the velvet seats of the expensive vehicles. Additionally, it started to import the seat covers to fulfil the huge demand of their customers and was able to import two containers of seat covers per month.

Few months later, instead of importing the completed seat covers, Pemarathne thought of manufacturing the padded seat covers out of the materials imported from Japan. It was truly amazing – the talent of Nawala Cushion works to manufacture the ideal seat covers and the ideal designs of any Japanese vehicle. It had to struggle a lot to fulfil this boosting demand for the high-quality seat covers.

About 1990s, Nawala Cushion Works was a highly recognised massive business in Sri Lanka. This time, the idea of exporting its products struck into the mind of Pemarathna. So, it attended to many international trade shows. During a trade show at Germany, Pemarathna and his team got their first international order. He was overwhelmed and proud as a Sri Lankan for this great opportunity. With this he made the arrangements to export his first shipment of seat covers to Austria. This was a historical moment of exporting locally manufactured seat covers to a European country.

These Sri Lankan seat covers were then distributed to many European countries through this Austrian company. Nawala Cushion Works met the target of meeting the expected quality and deadlines of this company for which they received standard certificates from the Austrian company as well.

Another unforgettable incident happened during this time. Surprising the people present at the place of shipping the first container to Europe, special uninvited guests arrived. It was none other than the former Trade Minister, Deputy Minister and the Mayor of Kotte of the ruling government at that time. This news was published as the Government had shipped the first seat cover sets to the international market. Nevertheless, this strong man had the courage of bearing this at his best. The secret of his success should be this great bearing ability and the obstacles that he had to face throughout his journey.

Today Nawala Cushion Works is not only one business. Many other subsidiaries are under this management. With the continuous dedication, wise decisions and the lawful strategy of business, the founder R.G. Pemarathne still gets along with his devoted employees to fulfil the targets. Dressed in a white sarong and a short-sleeved shirt as always, anyone could see the pleasant smile on his face. Continuing this business for 40 years, now this great gentleman is passing the steering to his son Lahiru Eranda.

You must have seen Nawala Cushion Works when you are travelling through Nawala- Narahenpita road. You will feel that this is another great accomplishment of a courageous Sri Lankan citizen. Likewise, you will know that there is a victory after strong determination and dedication.