---
Asia Pacific to field 3-country team, sponsored by Access Group (Sri Lanka) Giltrap Group (New Zealand), Wearnes Automotive (Singapore)
Simon Evans, brother of Panasonic Jaguar Racing Formula-E team driver, Mitch Evans, named as driver
Jaguar announced details of Team Asia New Zealand, who will compete in the Jaguar I-PACE eTROPHY, the world's first international championship for production-based electric cars.

Simon Evans, brother of Panasonic Jaguar Racing driver, Mitch Evans, will compete in the championship, which begins on 15 December in Ad Diriyah, Saudi Arabia. The Jaguar I-PACE eTROPHY will be the official support race to ABB FIA Formula E, and will take place on the same city street circuits at 10 rounds of the championship.

"My brother races in Formula E, and I've been following it for a few years now; it's definitely the future, so it's great to be involved," says Evans, who comes from a family of pedigreed racers in New Zealand. "I am thrilled to be representing Team Asia New Zealand, and am grateful for the opportunity to be part of electric racing history."

The Team Asia New Zealand eTROPHY car is sponsored primarily by the Giltrap Group of New Zealand, as well as Wearnes Automotive, and Access Group Ltd., Sri Lanka; all official importers and distributors of Jaguar Land Rover vehicles in their respective countries.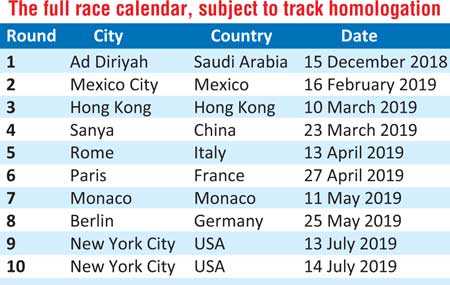 Marion Barnaby, Championship Manager, Jaguar I-PACE eTROPHY says, "The calibre of the drivers entering the Jaguar I-PACE eTROPHY is very strong, and it's going to make for some great racing. We'll be seeing experienced drivers pitted against exciting up-and-coming talent in a race that's all down to driver ability and skill. Electric racing is attracting a huge range of drivers, sponsors and broadcasters, and this announcement is a great example of that."

"The incredible energy and excitement at Formula E is just the beginning of what we know will be a dramatic shift in how the world views electric vehicles and what they can do not only for the environment, but for us as consumers," says Access Group Sri Lanka Chairman Sumal Perera. "We are so proud to have not only our company's logo on the race car, but the Sri Lanka flag too, as we become part of this exciting milestone in the history of automotive racing."

Evans attended the championship's acclimatisation test at Silverstone, UK in September, as well as pre-season testing at Rockingham, UK in October, where he banked valuable test laps. The Jaguar I-PACE eTROPHY race will be 25 minutes plus one lap. This will follow two free practice sessions and a qualifying session. Each race will feature a VIP entrant, with famous faces from the world of motorsport and beyond set to take part. The prize fund for the series is in excess of £500,000 per season.

Jaguar returned to racing in October 2016, becoming the first premium manufacturer to join the all-electric ABB FIA Formula E Championship street racing series. Last season, Nelson Piquet Jr and Mitch Evans contributed to Panasonic Jaguar Racing's most successful season to date in 2017-18, as their scored more than quadrupled the team's points from season three. The team's objective for Season Five is to compete as a front-running team, with regular podiums.

Season Five sees the introduction of the Jaguar I-TYPE 3, with a powertrain that has been developed entirely in-house at Panasonic Jaguar Racing. The Jaguar I-PACE eTROPHY races will be an exciting addition to this much-anticipated race season.