Launches 'KWID Live For More' edition in Sri Lanka
Expands presence to 6 showrooms and 21 service centres across the country
After the successful launch of the Renault brand in Sri Lanka led by the attractive, innovative and affordable Renault KWID, in partnership with Associated Motorways Ltd., (AMW), there is another important milestone that will excite both automotive and cricket enthusiasts – the signing of the global cricketing superstar, Kumar Sangakkara as the brand ambassador in Sri Lanka.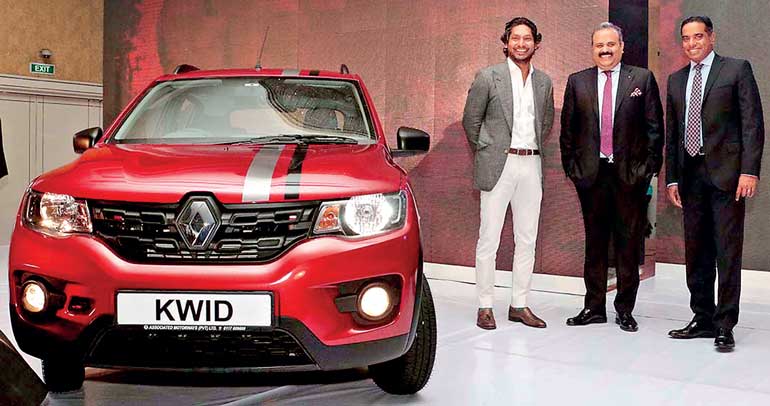 Brand Ambassador Kumar Sangakkara, Sumit Sawhney, Country CEO and Managing Director, Groupe Renault, Indian Subcontinent Operations and Samantha Rajapaksa, Managing Director, Associated Motorways Ltd at the launch
The association marks the union of two iconic brands that are synonymous with passion and innovation, have universal appeal and boast of an illustrious and successful lineage.

Sri Lanka is a very important market for Renault and is progressing towards a new and dynamic phase of growth. This association will leverage the versatility and legacy of both Renault and Kumar Sangakkara, as he represents the underlying brand ideology of Renault: 'Passion for Life'. This promise embodies what Renault does best – building cars that are designed around peoples' lives, with a passion of making them desirable and attractive.

Commenting on the announcement in Sri Lanka last week, Groupe Renault, Indian Subcontinent Operations Country CEO and Managing Director Sumit Sawhney said, "In a short span of time Renault has made quick progress in Sri Lanka and we are grateful to our customers for the phenomenal response to Renault KWID. It gives me immense pleasure to announce Kumar Sangakkara as our brand ambassador and his attributes as a champion and leader is the perfect blend to bolster our plans for a long-term successful innings in Sri Lanka."

The partnership is also timed with Renault's next phase of growth in Sri Lanka, as they look to significantly increase their presence across the country, as well as to aggressively expand their island-wide dealership footprint. Renault has recently expanded its network to six showrooms and 21 service centres across the country. The mass appeal of Kumar Sangakkara will definitely resonate and have a positive impact on taking Renault KWID to newer and emerging cities across Sri Lanka.

Kumar Sangakkara, sharing his views said, "Renault is an iconic and inspirational brand the world over. I am happy to be associated with a brand that is young, vibrant and has quickly established itself in Sri Lanka as an exciting new addition to our roads. I look forward to representing Renault and partnering its fascinating growth journey in the county."

Associated Motorways Private Ltd. Managing Director Samantha Rajapaksa added, "We are delighted to welcome Kumar Sangakkara to the Renault family and this partnership is testament to the ambitious plans to grow the Renault brand across the country. Both Renault and Sangakkara are globally renowned and we have a lot of exciting customer-centric initiatives to further build on this positive momentum."

Celebrating this milestone association, Renault launched the 'Kwid Live for More' edition. The 'Kwid Live for More' comes equipped with unique and urbane elements, which further enhances the lifestyle quotient of the Renault KWID.

The 'Kwid Live for More' edition will complement the Renault KWID range which has been widely appreciated for its attractive styling coupled with an SUV like stance thanks to the increased ground clearance. The cabin of the car comes with modern and intuitive interiors that include a well-equipped dashboard with a spacious cabin and smart upholstery. On the feature front, it comes with a segment-first 7-inch touchscreen with Bluetooth technology along with other add-ons.