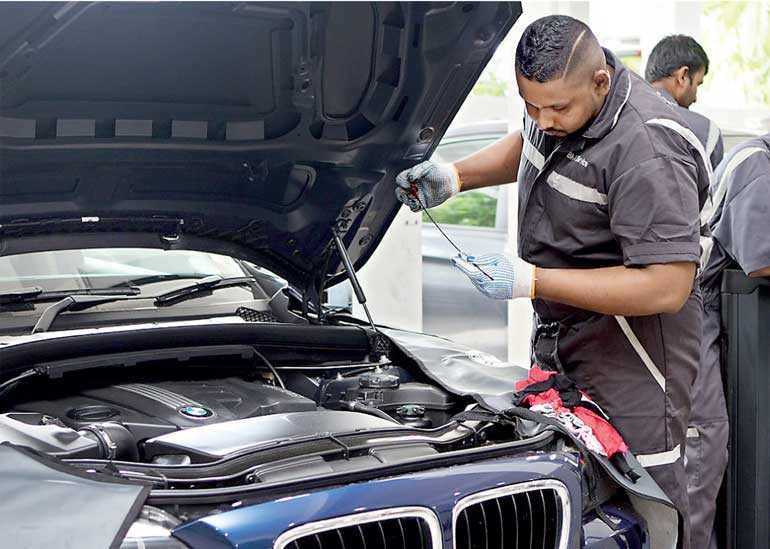 As the sole authorised importer and distributor of BMW, BMWi, iPerformance and MINI vehicles in Sri Lanka for nearly 20 years, Prestige Automobile Ltd. has evolved with innovation and state of the art technology to serve its customers better. Continuing its value addition further, the company has taken a holistic approach to offer BMW and MINI owners across the country to register with its award winning after-sales service at a significantly reduced fee, to avail the range of BMW certified facilities and services.

With this new proposition, parallel imported BMW and MINI vehicles that are registered with the Department of Motor Traffic before 1 May 2016 can relish Prestige Automobile's after sales services by paying Rs. 85,000 as the registration fee. Further, vehicles that are registered after 1 May 2016 will be charged Rs. 950,000. Upon registration, owners of BMW vehicles automatically become eligible for a free vehicle inspection and an oil service.

"The engineers at BMW strive to provide owners of today's and tomorrow's models with unlimited sheer driving pleasure by constantly inventing new technologies and features in our precious vehicles. This leads to a growing complexity especially in the electronic setup of our BMW models which now commonly feature Dynamic Stability Control, Navigation, Electric Power Steering, Active Cruise Control and many other special functions, which require specialists' attention. The decision to offer special rates on after-sales services at Prestige Automobile comes after realising the aforementioned need of the owners of parallel imported vehicles and difficulties they face through the use of counterfeit aftermarket parts and poor quality service standards practiced in various parts of the island to repair and restore their BMW vehicles. Our services are rounded up by a comprehensive setup, an 8-step service process and designed to cater to the demands of maintenance and repair requirements of today's latest BMW, BMWi, iPerformance and MINI vehicles. We are also the only authorised service centre in Sri Lanka to provide original BMW spare parts and official software upgrades announced through the manufacturer," said Prestige Automobile Ltd. General Manager After-sales Laksiri de Silva.

Commenting further, he noted: "Through constant training and application, we make sure that we are abreast with current and future technologies. This enormous task is managed with our BMW certified in-house trainer, through overseas training in the Regional Training Centre, or directly in the Training Facilities of BMW AG in Germany. The range of value-added services we offer include two year comprehensive warranty, parts warranty, extended goodwill, mobility guarantee, on-line booking facility, free product and technical upgrades, specially designed package prices to better suit customer needs and many more. I invite all BMW and MINI owners in Sri Lanka to come and register with Prestige Automobile to avail the full range of services at this reduced registration fee."

Prestige Automobile recently expanded flagship workshop with state of the art equipment and special tools, offers the same service standards as the BMW global. The service centre is equipped with certified service advisors who can provide first-hand advice on current repair and maintenance needs. Furthermore, the facility has been upgraded from 12 work bays to 30 work bays, along with two fully equipped vehicle inspection bays and a test lane for brake and suspension testing.

In addition, the BMW Collision Repair Centre is located in close proximity to the Service Centre and is the only BMW-authorised facility in the country to carry out carbon fibre repairs and replacement, and is also the first centre in the country to implement the use of water-based paint. Prestige Automobile also offers a 24-hour Assistance and Recovery Service, in the event of a breakdown, to pick your BMW up.