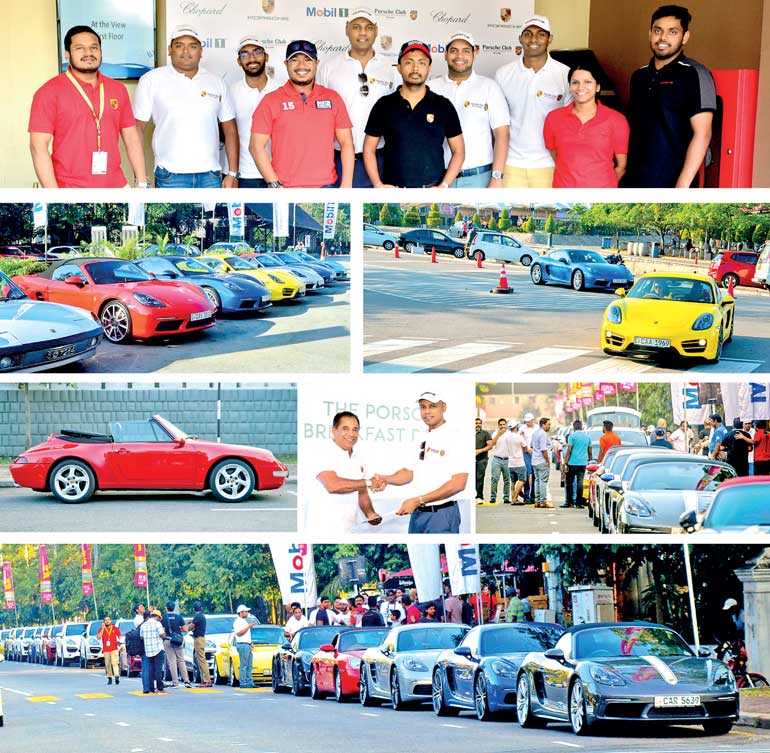 The Porsche Breakfast Drive with Chopard and Mobil, held recently in Colombo, concluded on a successful note with the participation of a large number of sports car enthusiasts. The drive began from Independence Square to Waters Edge, Battaramulla with the participation of Porsche cars owners and enthusiasts, and was followed by a breakfast hosted for Porsche, Chopard and Mobil customers who had the opportunity to indulge in a memorable experience.

Participants also witnessed the soft launch of Porsche Club Sri Lanka (PCSL), the first-ever exclusive club for Porsche car owners in the country. The club aims to hold events, trainings and gatherings exclusively for the members of the club, while promoting positive car culture. "We are delighted to host the first Porsche Breakfast Drive and to see the launch of the Porsche owners' club in Sri Lanka. The event has been an immense success and the crowd has been visibly excited to see a multitude of Porsche cars and their high performance displayed on the roads," stated Porsche Sri Lanka General Manager Ravi Opatha.

"Chopard and Porsche are synonymously recognised as luxury brands that are world-renowned for their sophistication and exclusivity. Both brands have maintained a continued global partnership that has remained strong over the years. The Porsche Breakfast Drive is a unique opportunity for us to unite the brands and to be a part of an exciting experience," said Chopard Sri Lanka CEO Indrajith Ranawana.

Meanwhile, Mobil Sri Lanka Marketing Head Dilan Seneviratne commented: "Porsche stands for luxury performance, and Mobil's longstanding partnership with Porsche exemplifies the high standard that is maintained in Mobil lubricants. As the recommended international lubricant brand for Porsche cars, we are proud to be a partner of the Porsche Breakfast Drive."

The Porsche Breakfast Drive is a joint initiative by Eurocars, the official agent of Porsche cars in Sri Lanka, Chopard, the exquisite luxury watch brand and Mobil, the foremost global supplier of lubricants.