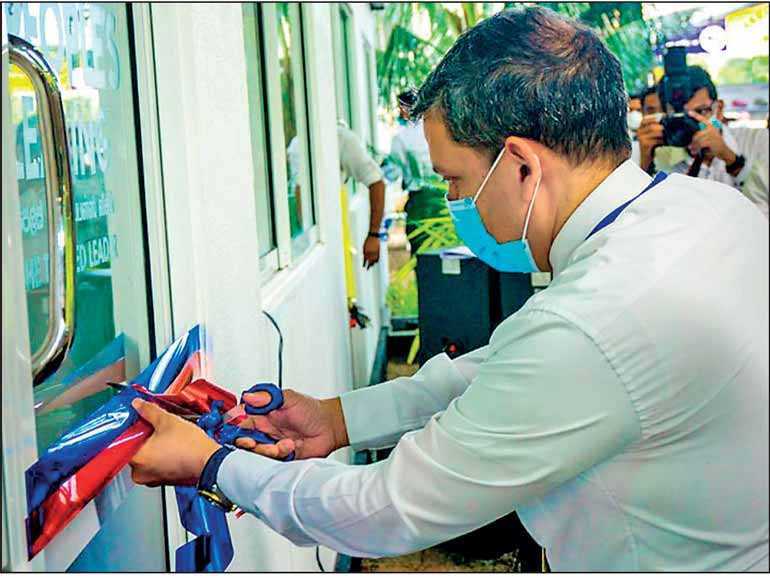 People's Leasing and Finance PLC, Sri Lanka's leading non-bank finance sector company, activated a sales outlet for the benefit of people at 'Malabe Family Cars' premises.

A new wing incorporated to Family Cars premises that faces Kaduwela-Malabe road has a capacity to accommodate over 125 vehicles. People's Leasing having a sales outlet here provides the convenience of facilitating financial requirements of clients who visit the sale for their vehicle requirements.

The opening of the PLC sales outlet was in the presence of People's Leasing CEO/GM Shamindra Marceline, Senior DGM Lionel Fernando, DGM (Marketing) Laksanda Gunawardene, and Chief Manager Marketing Vajira Ramanayake.

Customers who visit the sales outlet will be astounded by an array of value-added services that PLC is ready to offer such as, lowest interest rates prevailing in the marketplace, facility to reduce the instalment amount by paying a portion of the capital, flexible monthly instalments according to the need, extended repayment period of seven years and facility to apply for a separate personal loan along with the vehicle loan.

DGM (Marketing) Laksanda Gunawardene, speaking at the occasion of commissioning a PLC sales outlet at Malabe Family Cars premises said, "People who select a vehicle prefer to complete all transactions with regard to the purchase then and there. People's Leasing sales outlet functioning at the premises facilitating that need would be a great convenience for people. Malabe Family Cars is a gigantic place that could accommodate over 100 vehicles. Hence it offers is a great choice and variety for people who come here to purchase vehicles."

People's Leasing started its business operations in 1996 as a wholly owned subsidiary of one of the largest State banks in Sri Lanka, People's Bank. People's Leasing is currently the highest rated non-bank financial institution in the country, with a "A+(Ika)" rating from Fitch Ratings Lanka Ltd. and the number one ranked non-banking financial services brand by Brand Finance PLC. The Company was also recognised as one of the ten best corporate citizens in the country by the Ceylon Chamber of Commerce. People's Leasing Ranked No. 03 in Transparency in Corporate Reporting (TRAC) by the Transparency International Sri Lanka (TISL).

PLC's financial service product portfolio includes leasing, auto loans, fixed deposits, savings accounts, housing and business loans, gold loans, margin trading, factoring, and Islamic financial services.

People's Leasing Conglomerate consists of six subsidiaries – People's Insurance PLC, People's Micro-Commerce Ltd., People's Leasing Property Development Ltd., People's Leasing Fleet Management Ltd., People's Leasing Havelock Properties Ltd., and its latest foreign venture, Lankan Alliance Finance Ltd., in Bangladesh.

The unique features of People's Leasing are its strength and stability to provide diverse financial solutions under one roof, creating a seamless, convenient and friendly customer service experience.