Micro Cars Director Asela Lihinikaduwa, Micro Cars Group Director Guhashanka, HIGER Regional Manager Tom Qian, Micro Cars Chairman Dr. Lawrence Perera, Micro Cars Marketing Director Ruvindhu Gunaratne, Micro Cars General Manager Dhammika Goonewardena – Pix by Indraratne Balasuriya
---
To build state-of-the-art city buses, luxury coaches, commercial vehicles and DMUs meeting to EU standards, environmentally friendly, commuter safety and comfort
Sri Lanka has a history of building motor coaches during the 1950s where passenger coaches were locally built on imported chassis. Similarly, trucks (lorry bodies) were also locally built during the same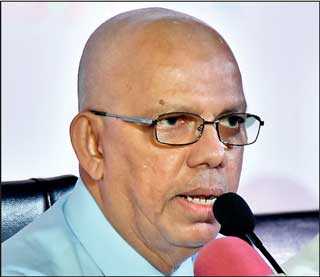 Micro Cars Chairman

Dr. Lawrence Perera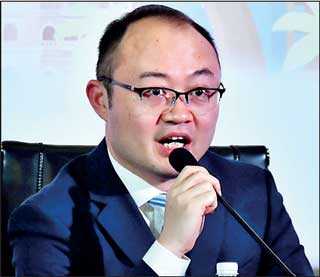 HIGER Regional Manager Tom Qian
period. This industry (bus/lorry body building) reached its peak in 1960s to late '70s and gradually declined after 1977 when the open economic policy of the then government came into play, and opened up a new trend of importing truck chassis buses, making Sri Lanka a dumping yard for substandard vehicles.

SLTB had bus body building facilities and workshops setup in almost at all its regions employing 1000s of people. The largest factories were located at Werahera and Ekala in the Colombo Southern and Northern regions as they had the largest bus fleets. At its peak this industry provided direct employment to approximately 50,000 people, while the industry was both forward and backward integrated providing employment to more than 200,000 people.

In the mid-1980s the SLTB's own local bus body building facilities shifted to primarily Indian purchases in importing complete built form, while a couple of small local companies tactically shifted from building to importation of buses, over the next decade killing the half a century old local industry.

Though we had a rich industry employing 1000s of local people after independence, today it is very unfortunate that our bus commuters still travel in buses crudely built on unsafe truck chassis using over a half-century-old truck technology. These so-called buses (truck buses) and the heavily used trucks are grossly unsafe to be commissioned for public passenger transport as there are no modern safety standards present and as a result the number of road accidents are on the rise. These buses/trucks with age-old technology is also major cause of environment pollution as they are built with engines that are not in line with the latest global emission standards.
Adverse environmental effects due to ad hoc policies
As we experienced a couple of months back, Sri Lanka's air quality has significantly depleted and now in the near danger/danger zones resulting in increase of respiratory illnesses in many people both young and aged, which adversely effects our national health bill as well. As a small island we are facing such issues due to the ad hoc shortsighted legislative policies adopted in the past.

Import substitution and export diversification is crucial for Sri Lanka's growth

The locally built new buses will be equipped with Euro IV environment friendly engines, ABS brakes, air suspension, air conditioning, emission reduction technology, incorporation of smart technology Industry 4.0, GPS and automatic fare collection system, E ticketing system to ensure comfort, safety courtesy and promptness of service, most importantly durability will be the key focus with low maintenance costs and minimise downtime thus increasing operator profitability and in return providing efficient service to the commuters and end users. As a country such modern eco-friendly and safe medium of transportation was long overdue to the Sri Lankan roads and can be owned by the SLTB and private operators in the near future.

Having one of the most valuable railway infrastructure built 150 years ago, the Sri Lankan Government Railway could take immediate steps to provide comfortable and convenient travel to the masses for rural urban connectivity. Back in 2004 Micro Cars Ltd. designed the concept of Lanka Econo Rail to be manufactured in Sri Lanka at a very economical cost which was approved by the cabinet in 2004 but could not be taken forward due to bureaucracy. The system is called 'Diesel/electric Multiple Unit' (DMU), where every three carriages is powered with medium horse power engines. These DMUs are more economical in terms of cost of production and maintenance when compared to importation of the same or the conventional locomotives.
Rejuvenating dormant industries for a productive Sri Lanka
These projects are expected to create over 2,200 direct employments and well over 3,500 indirect employment opportunities within the country in the skilled fields of automotive and rolling stock engineering/designing, IT, accounting, management/administrative staff and much needed vocational skills training to our youth, etc., and in addition there will be more jobs generated over time as the industry is heavily backward integrated.

Today the new government has outlined a clear desire and vision to rejuvenate and revive the once rich dormant industries and resurrect back to its old glory whilst nurturing the local economy to generate much needed quality employment opportunities especially for local youth, foster and enrich local industries, facilitating transfer of new technologies with the primary aim of supplying to the domestic requirement and at the same time pursue potential export markets.

In support of Gotabaya Rajapaksa the President's vision 'vistas of prosperity and splendour' and his Government of Sri Lanka, we Micro Cars Ltd., a 25-year company and the pioneer car manufacturer in Sri Lanka, having international franchise and transfer of technology agreements with European and Asian Fortune 500 companies for the required technical assistance, will build EU Standard Buses, Commercial and Land vehicles and Diesel Multiple Units in Sri Lanka.

With well over two decades of experience, Micro Cars Ltd. is no stranger to the Sri Lankan automobile engineering industry who is focusing to meet this challenge of finding solutions through locally built environmentally friendly, safe, smart and comfortable holistic public transport and logistic solutions to excel in catering to general public and commuter's requirements of Sri Lanka.

With the Government's desire and vision to revive the local manufacturing industries which would stimulate the economy while providing employment, attracting transfer of technology, adaptation of IT, IOT and AI and building smart cities with Smart Transportation solutions with a bid to make Sri Lanka Smarter.
International industrialist to invest in Sri Lanka
Micro Cars have attracted investments from its international industrialist investors and partners for investment of $ 300 million in the first phase and another additional $ 200 million for the second phase to facilitate the production expansion capacity to cater to these requirements. The company has the patent for the first ever car to be designed, prototyped and commercially built in Sri Lanka, headed by an automobile engineer with over 40 years of experience along with a well-experienced top management team will work in providing transport and logistic solutions to international standard for our Sri Lankans.

Further this proposed plan will also build new or expand a chain of cluster industries, such as automotive component manufacturing, increase volumes of tyres, battery, electrical cables, paints, rubber products and a whole lot of other small and medium industries currently operating in the country by barely managing small volumes with age old technology.

Unseen fronts of a large project of this magnitude will encourage the existing supply chains of the local industries to look out of the box and migrate to the latest technologies in their respected fields and to manufacture components using latest technology to meet international standards to cater the large local demand and with economies of scale enabling them to be competent in the global supply chain through generating employment, technology transfers.
We can do it Sri Lanka!
With Sri Lanka showcasing positive sentiments while having macro-economic targets from 2020-2025 to achieve economic growth of 6.5% higher, per capita income to reach $ 6,500, to maintain unemployment at less than 4%, it is time for Sri Lanka to showcase the world of its capability and make a comeback for our deserved fellow citizens.