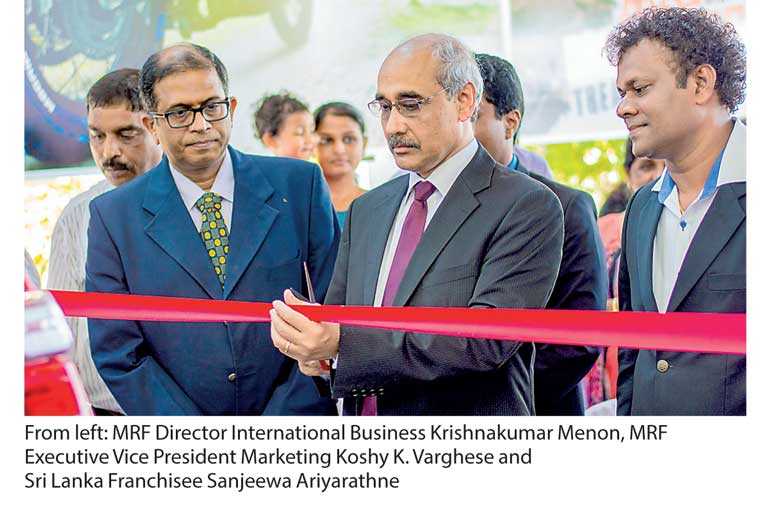 Tyre & Service Centre (T&S) is the latest offering in Sri Lanka from MRF – one of the leading global brands. This outlet provides fully-fledged tyre services such as wheel alignment, wheel balancing and automatic tyre fitment using the latest imported machinery.

In addition, tubeless tyre repair is also offered at the centre. MRF also offers you the widest available range of tyres for all classes of vehicles. MRF Tyres comes to you with a winning combination of the latest in technology and customer preference. Customers can do their tyre shopping and relax in comfort while their vehicles are being attended to.

The inauguration was done under the patronage of MRF Executive Vice President Marketing Koshy K. Varghese, Director International Business Krishnakumar Menon and Resident Manager Krishantha Pieris. The showroom and hi-tech service bay was declared open by Varghese with an official ribbon cutting ceremony.

One of the unique features of the MRF Tyres & Service Centre is that the technicians are trained in wheel alignment, wheel balancing and other services offered at the company's state of the art - MRF Tyredrome Training Centre. MRF has around 1000 such high end T&S outlets. MRF is thus bringing to the motorists of Sri Lanka a satisfying tyre shopping and servicing experience. MRF T&S Franchise, Sanjeeva Tyre House at Beruwala was inaugurated on 07 September 2018 in Sri Lanka.