There were huge celebrations at the headquarters of Lanka IOC PLC on the occasion of its 15th Company Day anniversary. Every year Lanka IOC celebrates 29 August as Lanka IOC Day. There were celebrations at various retail outlets across the island including Head office and Trincomalee terminal.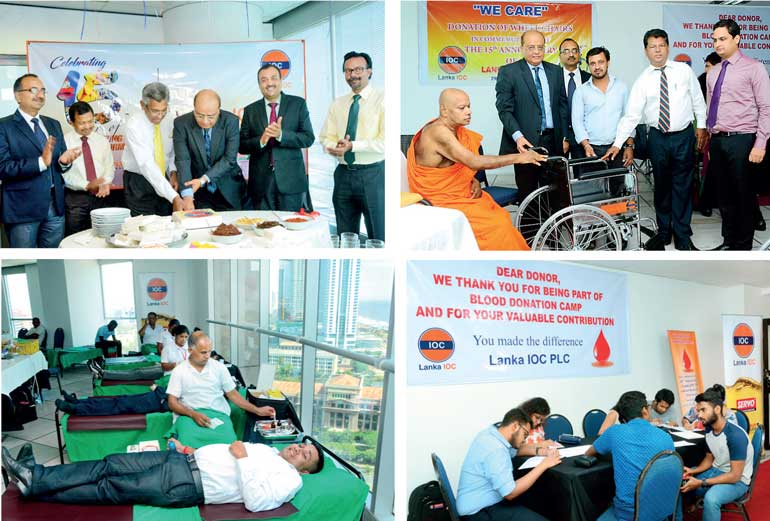 In commemoration of the company day, Lanka IOC PLC also organised a blood donation camp and free eye checkup camp. There was huge participation of public for blood donation camp organised at the headquarters of the company at World Trade Centre, Colombo as well as at Trincomalee Oil Installation. A total of 331 units of blood were donated to National Blood Bank. Apart from the blood donation camp and free eye checkup camp, the company also donated wheelchairs.

Lanka IOC Managing Director Shyam Bohra donated wheelchairs to Ven. Bhathiyavela Chandrananda Thero Sri Sumangalaramaya, Ampitigala Anguruwathota and to other low income needy people, as recommended by the Social Services Department and Helpage Sri Lanka, during the camp.

Speaking on the occasion, Bohra stated that the company was registered 15 years back in Sri Lanka and is a truly Sri Lankan company, listed on Colombo Stock Exchange and a No. 1 public listed company in the petroleum sector.

Fifteen years ago Lanka IOC set forth on a journey to transform the energy sector of Sri Lanka. Lanka IOC has passionately fuelled the transformation of the social landscape of Sri Lanka with expansive customer touch points, empowered communities by partnering to develop infrastructure across the island.

Lanka IOC's fuel network has created a myriad of opportunities for employment together with enhanced avenues for revenue, thus building a sustainable platform for social and community development.

Lanka IOC's focus on quality remains paramount as it remains committed on sourcing the optimum quality globally. Lanka IOC continues on the journey of transformation as it strives to redefine the paradigms of customer service with innovative service features.

As it has spread the wings it has passionately fuelled beyond the cannons of commuter conveyance. Today, Lanka IOC is recognised as an enduring brand intrinsically linked with the hearts and minds of the Sri Lankan spirit fuelling them to reach greater heights.

He thanked all the stakeholders of Lanka IOC for their contribution to bring Lanka IOC at this stage. He gave long service award to the employees for their long-term contribution in the company. He also thanked to Government of Sri Lanka for its continuous support without which it would have not been possible to work in Sri Lanka.