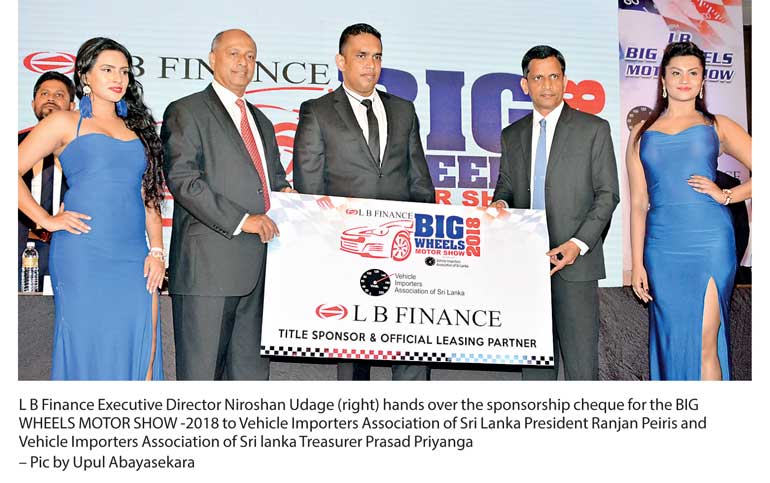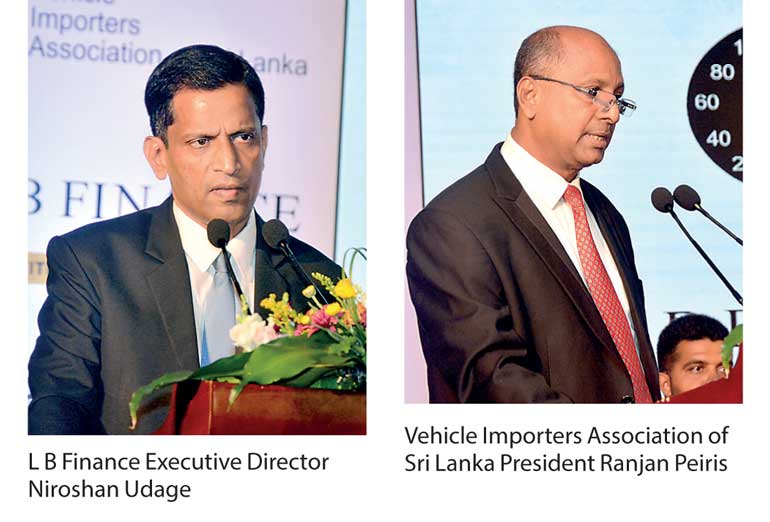 Diverse range of small cars, luxury sedans, all sizes of
SUVs, powerful jeeps, supercars, finest classic cars to be displayed
Public will be able to purchase high-quality vehicles at special offers, with deals tailor-made for the event
By Charumini de Silva

Sri Lankan motor vehicle enthusiasts are in for a treat with a one-of-a-kind motor show that focuses on providing superior quality vehicles from the world's leading automotive manufacturers at the inaugural 'LB Big Wheels Motor Show' from 18 to 20 May at Nelum Pokuna.

The LB Big Wheels Motor Show will demonstrate a diverse range of small cars, luxury sedans, all sizes of SUVs, powerful jeeps, supercars and a broad selection of some of the finest classic cars in the island that are always a hit with automobile enthusiasts.

Organised by Vehicle Importers Association of Sri Lanka (VIASL) in association with LB Finance Plc, the show will comprise over 35 stalls and a total of over 200 brand new and reconditioned vehicles including hybrid and electric models. All the leading makes and models from Europe, Japan, Thailand and Australia will be present at the event.

"While the LB Big Wheels Motor Show is our very first attempt in putting together such an event, we wanted to make sure that it does not become yet another, run-of-the-mill motor show," VIASL President Ranjan Peiris said, addressing at media conference in Colombo on Wednesday (4).

With Government planning to stop imports of motor vehicles below Euro IV emission standards and safety measures from 1 July, he pointed out that through the LB Big Wheels Motor Show, the public will be able to purchase a high-quality vehicles at a reasonable price which VIASL strongly believes all vehicles in Sri Lanka should possess.

"We have made it a very focused effort to ensure that we educate the Sri Lankan consumer about the top-quality brand new and reconditioned vehicles all our association members bring down, while through our title sponsor LB Finance we are able to assist prospective buyers to purchase their dream vehicle by taking advantage of the special offers and deals available at the show," Peiris added.

It was pointed out that the LB Big Wheels Motor Show is different to other motor shows in Sri Lanka primarily due to two reasons. Firstly, all vehicles displayed at the show will be models manufactured for the local market in the respective country of manufacture. Secondly, during the event, LB Finance will be providing a host of special offers and deals that are tailor-made for the event, which are special rates below their current market rates.

LB Finance Plc Asset Finance Executive Director Niroshan Udage said they hoped to make the motor show an annual event in going forward.

As the used car dealers of VIASL import domestic models of each make and model directly from these countries, the organisers said these vehicle models were invariably of the very best quality in terms of safety standards, technology and features and were therefore far superior to the export market models imported to Sri Lanka by franchise dealers.

VIASL Secretary Arosha Rodrigo asserted that the LB Big Wheels was poised to become the top motor show in the country.

The VIASL was formed 35 years ago with the objective of becoming the leading voice representing the brand-new and reconditioned automobile importers in Sri Lanka. The association comprises a wide-reaching membership of 132 prominent importers of the country. It advocates the automobile importation industry and proactively engages in the welfare of its members and Sri Lankan consumers.