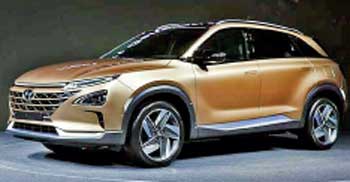 Hyundai, a leading automobile manufacturer, has offered an early glimpse of its next-generation fuel cell vehicle, ahead of the hydrogen-powered SUV's official launch early next year.

The near-production-ready prototype embodies Hyundai's commitment to a new era for advanced eco-friendly vehicle development, offering impressive capabilities and futuristic design, said a statement.

The yet-to-be-named model will be Hyundai's second commercially produced hydrogen model and uses the company's fourth generation of hydrogen fuel cell technology. The vehicle, its capabilities and fuel cell technologies are an evolution of Hyundai's global research, development and real-world evaluation programs, engineered with expertise honed through the world's first commercial production of a fuel cell vehicle in 2013, it said.

The new fuel cell model was developed on four key pillars that focus on fuel cell system efficiency, performance (maximum output), durability, and tank storage density, it added.

By enhancing fuel cell performance, reducing hydrogen consumption, and optimising key components, the vehicle's efficiency is greatly improved compared with its predecessor, the Tucson Fuel Cell.

It boasts an efficiency level of 60%, or a 9% increase from the Tucson's 55.3%, and targets a driving range of more than 580 km on a single charge based on Korean testing standards.

The new model's maximum output is enhanced by 20%, boasting an impressive 163PS of power. Enhanced components – such as MEA (membrane electrode assembly) and bipolar plates – have helped to reduce production costs, said a statement.

Lee Ki-sang, senior vice president of Hyundai Group's Eco Technology Center, said: "With exceptional efficiency, serene styling, and uncompromised performance, our next-generation fuel cell SUV is the true epitome of an eco-friendly vehicle of the future."

"Hyundai Motor will take the lead in developing and producing green energy vehicles that would ultimately complement a near-zero emission society," he said.

The new FCEV inherits striking design features from the FE Concept, which was introduced at the 2017 Geneva Auto Show. The new model builds on the earlier concept's design, taking an organic and flowing form, inspired by nature – namely water, the car's only emission – with the clean design emphasising its non-polluting nature.

The clean and simple interior layout intuitively integrates high-tech elements in an ultramodern environment, complemented by industry leading bio-materials with eco-friendly certification.

The new model will spearhead Hyundai's plans to accelerate development of low emission vehicles, in line with Hyundai Motor Group's renewed goal of introducing 31 eco-friendly models across both the Hyundai and Kia brands to global markets by 2020.

Hyundai is committed to a multi-pronged approach to its eco-vehicle programme, with a future vehicle line-up comprising a variety of powertrain options – electric, hybrid and fuel cell – to suit customers' varied lifestyles.

Spurred on by greater global demand for fuel-efficient, eco-friendly vehicles, the roadmap sets out the brand's goal of leading the global popularisation of hybrid vehicles, expanding its lineup to SUVs and large vehicles. It includes development of 4WD and rear-wheel drive variants, building on its proprietary Transmission-Mounted Electrical Device (TMED) system.

Continuing to develop its leadership of the electric vehicle market with its current IONIQ model, the company also aims to establish a lineup ranging from small EVs to large and luxurious Genesis-brand models.