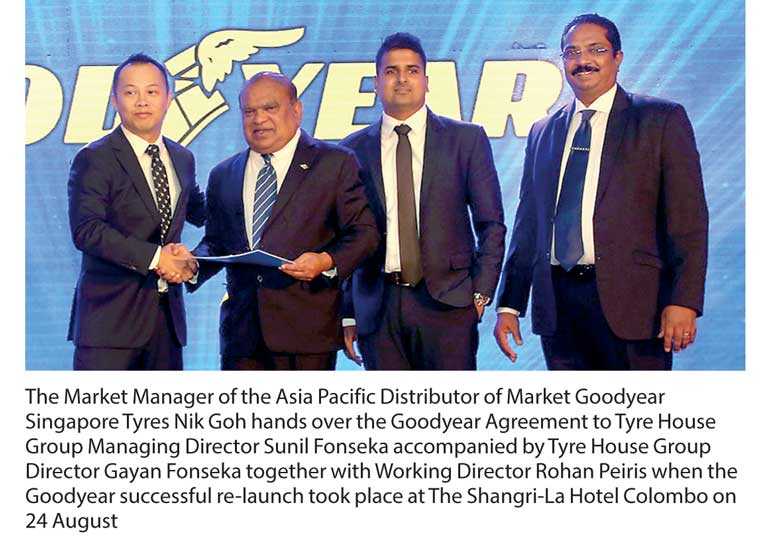 Goodyear founded in 1898 named the company after Charles Goodyear who discovered the process of vulcanisation for the first time in 1839. Goodyear is the largest rubber company in the world. It is one of the world's top four tyre manufacturers as well with the manufacture of small to mid sizes SUV tyres. Goodyear would be auspiciously re-executed on 24 August at 7:30 p.m. tied-up with Tyre House Group at the Shangri-La Hotel.

Goodyear is delighted to partner with (THG) Tyre House Group. THG motivated by its innovative ideas for more than 50 years is the leading automotive tyre importer and one of the pioneers in the local automotive tyre trade. It eventually announces the showcase of leading Goodyear products in the region.

The forum shall be graced by Tyre House Group Managing Director Sunil Fonseka, Group Director Gayan Fonseka, Working Director Rohan Peiris and top notch joint officials from both entities. At the same time most significant Goodyear shop dealers scattered across the country are the absolute invitees for the episode.

Based on patented proven technology, Goodyear would deliver the unsurpassed experience ever imparted to multinational customers, professionals and business with 120 years expandability, dominant Goodyear expertise; Nik Goh and Joseph Toh would disclose its consumer inventory to the symposium.

The latest Goodyear comes with small to mid SUV tyres. The legendary Goodyear employs around 69,000 all over the world with 59 plant facilities in 22 countries, holds its headquarters in the USA. NASA joined forces with Goodyear to develop an airless tyre to be used on extra-terrestrial surfaces too. The net revenue or net sales of Goodyear in year 2017 was $ 15.38 billion and net income $ 346 million, the Goodyear Brand value on the same year was $ 4.86 billion which is the highest. The total of replacement and OEM tyres were 166.1 million in 2016.