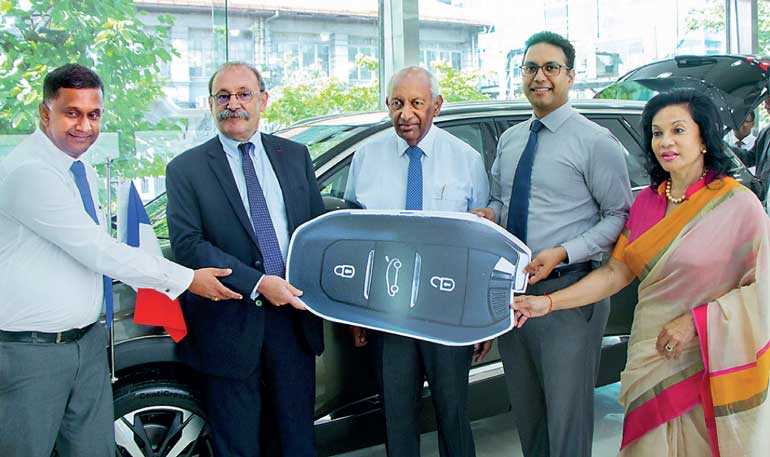 French Ambassador Eric Lavertu with officials from Carmart
Carmart Ltd., the sole manufacturer authorised importer/distributer in Sri Lanka for the world-renowned European vehicle brand Peugeot, ceremonially handed over the keys to the latest Peugeot 5008 SUV to the Ambassador of France to Sri Lanka and the Maldives Eric Lavertu. The ceremony was held at the Peugeot Blue Box showroom in Colombo 2.

Speaking at the event Lavertu said, "Peugeot is a very successful brand in France and across the globe. It is well known for its versatility, design and durability. It has also won many awards and car races in Europe and all around the continents. I am very glad to be using a Peugeot here in Sri Lanka as well. The Embassy would like to thank the Carmart management and staff for their excellent service all along the years. I would also like to take this opportunity to wish them all success."

The Peugeot 5008 is an award-winning vehicle globally and has enjoyed great success locally as well. Carmart has seen exponential growth in sales numbers of the top-selling European SUV in its range with the company recording close to 300 registrations in 2018 alone. This makes the Peugeot SUV range the most popular European brand-new SUV range in Sri Lanka.

Speaking at the ceremony Carmart Director/CEO Yasendra Amerasinghe said: "We are extremely happy to be handing over the keys to a brand new 5008 to Ambassador Lavertu who is not only a keen vehicle enthusiast but also a discerning customer. Carmart has had long-standing relations with the French Embassy having provided vehicles for both official and personal use of embassy officials."

"The 5008 continues to flourish in the SUV market globally, winning many awards for its engine, durability, practicality, and styling. Peugeot SUVs have created a great deal of interest in the market as these vehicles represent outstanding value for money," he added.

Peugeot's SUV range led by the 3008 and 5008 have won many international awards, most recently including Carbuyer 'Best Medium SUV 2019', the Driver Power 'Car of the Year 2018' and the 'Gold Winner - Mid-Sized SUV 2018' in the 16th Driver Power survey.

The sleek Peugeot 3008 SUV was also voted 'Car of the Year 2017' by 58 European journalists from 22 countries.

Carmart Ltd. has been the authorised importer/distributor for Peugeot since 1953, making it the longest running partner for the brand in Asia, and the fourth oldest in the world. Carmart has been investing a great deal into uplifting the quality and efficiency of its aftersales operations, aiming to provide world-class aftersales to its customers. Recent initiatives include a pick up and drop valet service for aftersales, a promise of guaranteed maintenance parts availability for current models, and continuous upgrades to infrastructure.

The Peugeot SUV range can be experienced at the Peugeot Blue Box showroom at 424 Union Place, Colombo 2, which is open seven days a week.