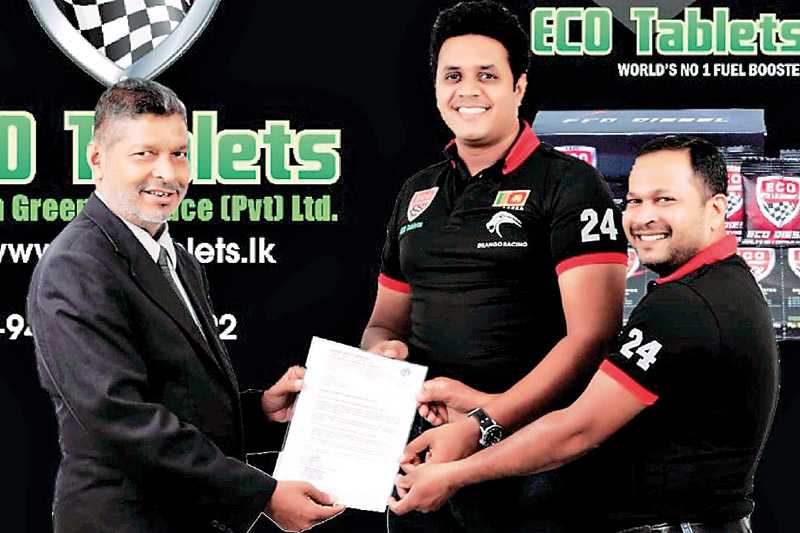 Eco Tablets Project Analyst Madushan Perera and Eco Tablets GM Nilantha Roshan Fernando receiving the certificate from CEA Deputy Director General K.H. Muthukudaarachchi
---
The Central Environmental Authority recommends using Eco Tablet, an organic product mixed with nanotechnology to improvise the quality of the fuel used in vehicles.

Ceylon Green Produce Ltd. recently introduced this internationally reputed product in a move to reduce air pollution resulting from vehicles gas emission.

Eco Tablet comes in two versions: Eco Racing for petrol vehicles and Eco Diesel for diesel vehicles. This fuel booster enhances the engine's performance and the efficiency in fuel combustion.

Eco Tablet doubles the engine's lifetime while cleansing spark plugs, combustion chambers and the fuel tank. It saves fuel from 20% to 50%. Eco Racing boosts octane value from 5 to 10 in petrol while Eco Diesel increases cetane value of diesel from 1 to 5.

Using Eco Tablets regularly improves fuel combustion, efficiency and engine's performance. It also reduces the emission of carbon monoxide (CO) 100% and sulphur dioxide SO2 up to 99%.

Having tested the efficiency of Eco Tablets, CEA has issued a certification signed by Deputy Director General – Environment Pollution Control K.H. Muthukuda Arachchi.

"This substance has been tested and proved under the supervision and patronage of Central Envi-ronmental Authority. Considering the positive environmental impacts, application of Eco Tablets to any fleet of vehicles is recommended by this authority in relation to CSR projects," the certificate states.

When Eco tablets are used by a fleet of vehicles, it significantly reduces the air pollution resulting from fuel combustion while improving the vehicles' engine performances. Presently several Gov-ernment bodies have expressed interest to use Eco Tablets for their fleets of vehicles the compa-ny sources said.

A large number of mechanical engineers have recommended Eco Tablets as a real fuel booster with multiple benefits to the users. Eco Tablet, a product known internationally for its quality and effectiveness over a decade, can be used in all vehicles including motorbikes and heavy machinery. Eco Tablets is one of the many eco projects of Ceylon Green Produce.