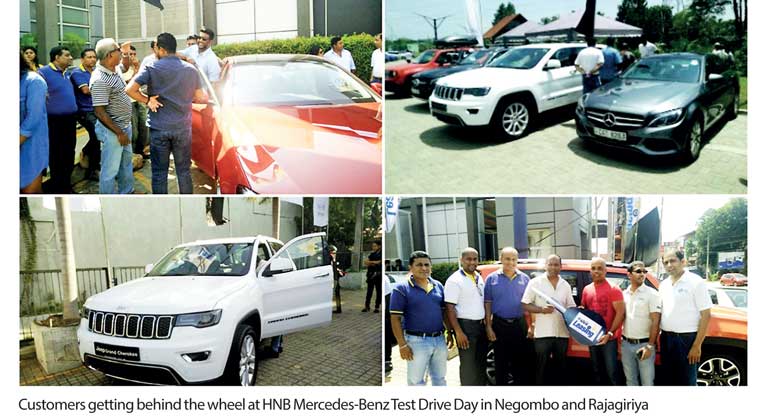 Sri Lanka's premier retail bank, HNB PLC together with Diesel & Motor Engineering PLC, the only authorised distributor for Mercedes-Benz and Jeep in Sri Lanka, announced the launch of the HNB Mercedes-Benz and Jeep Test Drive Days at selected locations across Sri Lanka throughout February and March.

Through the new promotion with HNB, fans of the brands will get a chance to get behind the wheel of some of the most iconic Mercedes-Benz and Jeep Cars, SUVs and Vans including the Mercedes-Benz GLA, CLA, E-Class, SLC, G-Class, VITO, Citan and Jeep Renegade, Grand Cherokee.

"It is a real pleasure for all of us at HNB to build on our unique relationship with DIMO, by leveraging on their long-standing association with brands as prestigious and aspirational as Mercedes-Benz and Jeep to launch our Test Drive days. This is a chance for all of our customers to take these remarkable vehicles for a spin and really get a feel for their superior performance, and elegant comfort," HNB Senior Manager Leasing Nalin Dissanayake said.

Commencing with promotions at HNB customer service centres in Negombo and Rajagiriya, the next HNB Mercedes-Benz Test Drive Day will take place from 8.30-11.30 a.m. at HNB's Galle branch on 10 March. Over the coming months, HNB and DIMO will conduct Test Drive Days in all 10 regions which the bank operates across.

"The two brands Mercedes-Benz and Jeep offer with performance and luxurious comfort, and we are extremely excited to open up the unique experience of driving these exquisitely designed automobiles to current and aspiring owners of Mercedes-Benz and Jeep. Combined with the unprecedented convenience in flexible leasing solutions offered by HNB, we are seeing even greater customer interest for Mercedes-Benz and Jeep brands and we invite all who are interested in getting behind the wheel of these remarkable powerhouses, to drop by at the HNB Mercedes-Benz and Jeep Test Drive Day events and experience it for themselves," DIMO Head of Marketing for Mercedes-Benz and Jeep Shervin Fernando said.

The new promotion follows on a recent partnership between HNB and DIMO aimed at offering faster, easier, and more accessible leasing options for clients purchasing Mercedes-Benz and Jeep vehicles that can be structured to suit a customer's preference including special interest rates for both brand-new as well as pre-owned vehicles with the flexibility to configure the equated monthly instalments with residual values up to 40% on a repayment period spanning up to seven years.

With a relationship spanning over a decade, the partnership between HNB and DIMO has leveraged on the inherent strengths of both brands have developed over their numerous decades of operations in Sri Lanka to deliver exceptional service and customer satisfaction.

Diesel & Motor Engineering PLC as the only authorised distributor for Mercedes-Benz and Jeep in Sri Lanka has repeatedly proven its commitment towards focusing on individual customer needs and preferences, by paying attention to detail, and ensuring each client enjoys a purchasing experience free of any hassle. In addition to this, DIMO offers after-sales services which are unmatched.

As a premier distributor of luxury vehicles in Sri Lanka spanning over 78 years, DIMO has cultivated an irreplaceable and long-standing relationship with vehicle enthusiasts across the country as a result of their impeccable service.

HNB has received recognition from numerous international and local institutions, including Best Bank in Sri Lanka for 2017 by The Banker Magazine UK and a further nine awards for Best Retail Bank in Sri Lanka by the Asian Banker Magazine, and continues to set new benchmarks in the Sri Lankan banking industry.

Operating across 251 customer centres, the bank's reach has been further augmented through the introduction of cutting edge technology aimed at enabling a new paradigm in Sri Lanka's banking culture and the new partnership with DIMO offers customers a new standard in convenience for those seeking to take advantage of specialised leasing options.