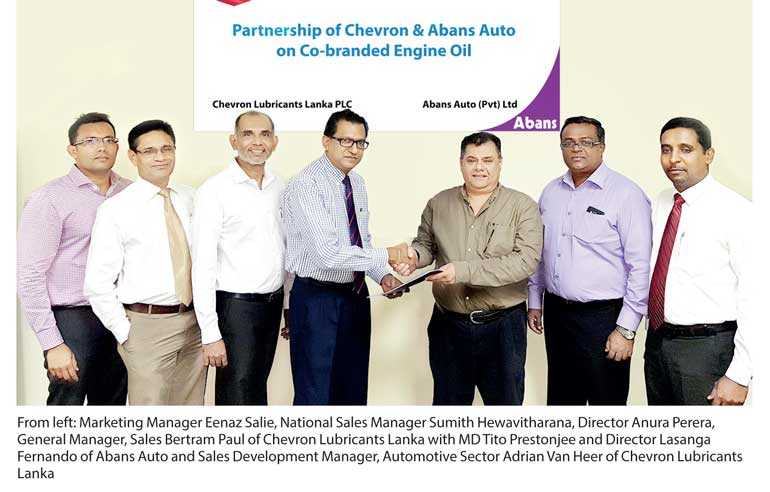 Chevron Lubricants Lanka PLC, the market leader in the Sri Lankan lubricant market, and Abans Auto, the sole agent in Sri Lanka for Hero motorcycles and scooters, announced the introduction of a co-branded lubricant for use in Hero motorcycles and scooters.

Under this partnership, the internationally-renowned lubricant brand Havoline would carry the Abans Auto co-branding for this customised lubricant product, which will be manufactured in Chevron's state-of-the-art lubricant blending plant in Sapugaskanda and marketed via the network of 200 showrooms and service dealers of Abans Auto.

Since 1904, Caltex Havoline motor oils have provided outstanding performance. Today's Havoline lives up to its heritage with its latest technology: Havoline with Deposit Shield Technology, an advanced formulation that protects petrol engine from harmful deposits to deliver optimum performance.

Caltex Havoline recently re-launched an enhanced range of motor-cycle engine oils across Asia. The product formulation has been upgraded to address the needs of the growing demands of the two wheelers especially in urban areas. Further the new formulation of Havoline's motorcycle range covers the popular viscosity grades requested by both manufacturers and riders.

New Caltex Havoline motorcycle oils are formulated with C.O.R.E. technology and ZOOMTECH booster for enhanced performance, containing a motorcycle-specific formulation which combines high quality base oils with a tailored additive package to deliver excellent engine performance and reliability.

Chevron Lubricants Lanka PLC, the marketer and distributor of the Havoline brand range, has the highest outlet penetration in the Sri Lankan market, delivering its portfolio of world-class products and services to thousands of Sri Lankans across the country.

This co-branding partnership with Abans for Chevron, bears further testament to the high standards of quality under which Chevron manufactures in Sri Lanka. The locally-blended Chevron products are produced by a 100% local workforce using base oil and additives sourced off the international Chevron network.

"We are pleased to partner with a leading company such as Abans Auto and believe users of Hero motorcycles and scooters in Sri Lanka would benefit immensely from the customised lubricant product introduced for Hero," commented Chevron Lubricants Lanka PLC General Manager – Sales Bertram Paul.

The Caltex Havoline Super 4T 10W-30 product customised for Abans Auto will be available in 900ml packs and in drums. This partnership between the two industry giants Abans and Chevron holds promise to contribute positively for Sri Lanka's economic growth.