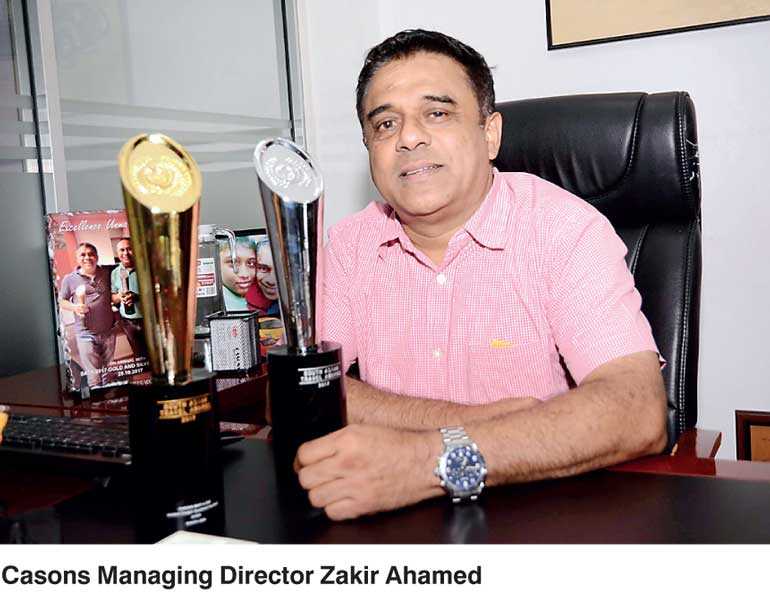 For those looking for a highly personalised service when renting a vehicle, one doesn't have to look further than Casons-Rent-a-car. The leading car rental service provider in Sri Lanka is now equipped to expand its services with an increased workforce as a part of a major expansion drive, in response to the ever increasing demand.

Casons-rent-a-car, recently bestowed with a Gold award as South Asia's Leading Tourist Transport Provider for 2017 also bagged the Silver award for the Best Regional Rent-a-Car Company of 2017 at the South Asian Travel Awards held in Addu City, Maldives.

Marking the first time a Sri Lankan travel company was recognised with awards of excellence; Casons Rent-a-car is seeking to position itself as a leading mobility service provider in the country. Founded by two brothers, Managing Director Zakir Ahamed and Director/CEO Zufer Ahamed, the company has evolved from humble beginnings of just a single car.

Speaking of the importance of these accolades Entrepreneur Zakir Ahamed said such awards were important to the industry as a whole. "When we began our services, none of my family members owned a car. The journey to where we stand now was not easy.

Initially I worked as a Transport Supervisor and through sheer perseverance and commitment; Casons has been elevated to these ranks. It's an honour to receive recognition for over 30 years of rental car management and ownership," said Zakir Ahamed.

Zakir Ahamed does not fail to note how the company has adapted and evolved through constantly changing business environments. "Over the many years of managing this company, I have witnessed business environment constantly changes, business models, and customer service initiatives. If you are to thrive in this business, passion and dedication for your work is the key to survival. That is why we live by our motto "Excellence Unmatched," he noted.

The personalised touch of Casons rent-a-car is a value instilled by Zakir Ahamed himself. Always available to help resolve any issue, he is known to rectify and iron-out any impediment with skill, Passion and enthusiasm. His charismatic personality reflects in the work environment built at Casons which is always is to prioritise the customers.

"When recruiting, I look for passionate youth rather than making judgements based on qualifications. With an employee base of around 250 at present and with over 500 vehicles, I believe I'm blessed not only to have a passionate and hard working team dedicated to their work but also to have customers who improve our business holistically," he added.

Speaking on apertures of the industry, the zealous Entrepreneur of Casons says despite their work being underscored and assisted by authorities, there remains a lot left undone. "The Government has recently introduced an insurance policy for the rent-a-car business. We applaud this move but it cannot stop here. There is room for improvement," he said.

Casons has an official travel counters at Bandaranaike International Airport and Galle Face Hotel Colombo and is a pioneer member of Rent A Car Association of Sri Lanka.