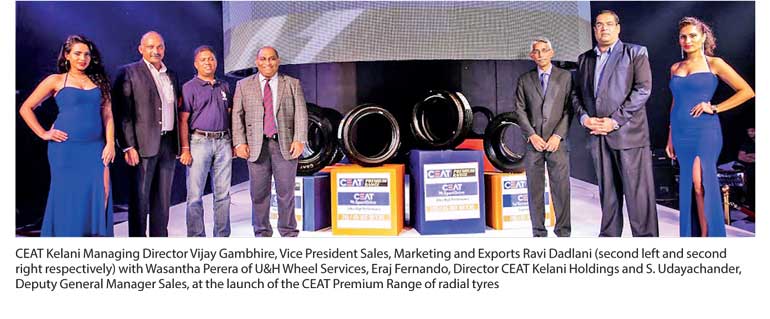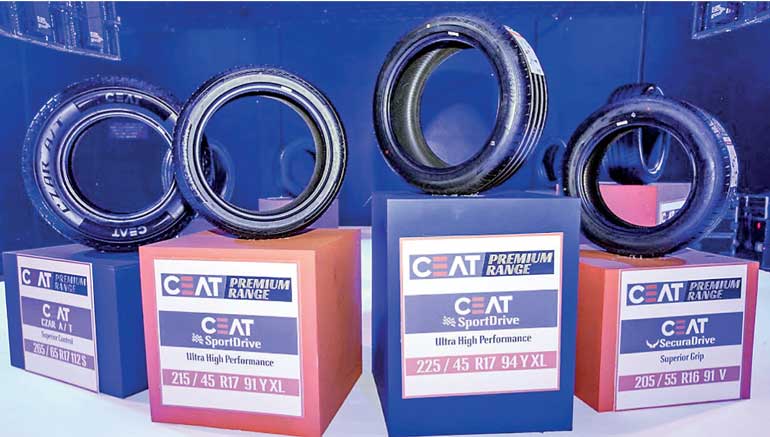 Launches new range for top European and Japanese marques like Benz, BMW, Audi and Land Cruiser Prado
A year after its successful foray into the premium automobile segment in Europe, CEAT has entered the 'big league' in the Sri Lankan market with a range of radial tyres globally benchmarked for top nameplate marques.

The launch in Colombo of four new sizes of radials manufactured to meet the requirements of leading European and Japanese car makers takes the CEAT brand, already the market leader in the passenger car segment, to the elite echelon of BMW, Mercedes Benz, Audi and Land Cruiser Prado.

Comprehensively tested in Germany and France and benchmarked against a global brand widely used in this segment, CEAT's 'Secura Drive' (size 205/55 R 16), 'Sports Drive' (in sizes 215/45 R17 and 225/45 R 17) and 'CZAR'All Terrain (265/65 R 17) tyres were launched at an elegant event at the Park Street Mews on 6th September.

These tyres are currently selling in 17 European markets, and increase CEAT's radial tyre portfolio in Sri Lanka to 44 sizes. They are backed by a manufacturer's warranty of one-to-one replacement for any factory defects upto 20,000 km.

Addressing invitees at the launch of the new range, CEAT Kelani Managing Director Vijay Gambhire said: "These tyres not only reaffirm the CEAT brand's proficiency on the international stage, they also fill a gap that existed in our portfolio in Sri Lanka. Our status as the highest-selling tyre brand across multiple segments in the local market will be further reinforced by our presence in the premium segment."

The CEAT Secura Drive tyre has wide longitudinal grooves for aquaplaning resistance, chamfered shoulder blocks for effective braking on wet roads and asymmetric tread patterns and solid outer sides for accurate and balanced handling, while smart compounding and modern mixing technology ensure high mileage and low rolling resistance. Computer optimised pitch arrangement reduces noise and enhances drive comfort. The tyre's unique selling proposition is safety at high speeds.

The ultra-high performance CEAT Sports Drive range has robust shoulder area construction for stable and precise steering in all driving situations, wide longitudinal channels that guarantee good aquaplaning resistance and asymmetric tread patterns and solid outer side geometry for excellent support for lateral forces during cornering. Advanced and modern compounding helps maintain durability and low energy loss even at very high speeds.

Both tyre ranges have been tested for conformity with the global benchmark for dry and wet handling, dry and wet braking, comfort, noise and durability.

CEAT Kelani Holdings supplies nearly half of Sri Lanka's overall requirement of pneumatic tyres and exports about a third of its production to countries in South Asia, the Middle East, Africa and the Far East. The company's manufacturing operations encompass the radial, commercial, motorcycle, three-wheeler and agricultural machinery segments.

The CEAT brand accounts for market shares of 32% in the radial segment, 51% in the Truck/Light Truck category, 54% in the 3-Wheeler segment, 22% in the motorcycle segment and 72% in the agricultural tyre category.