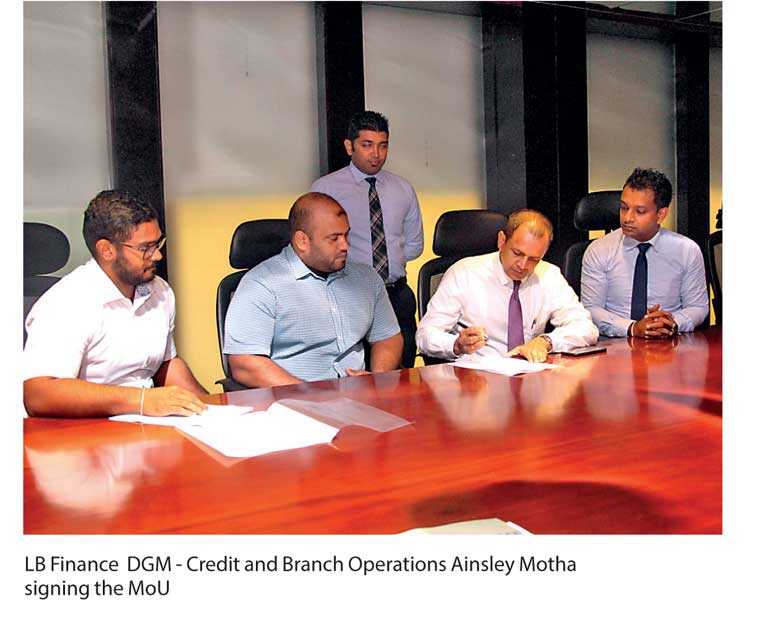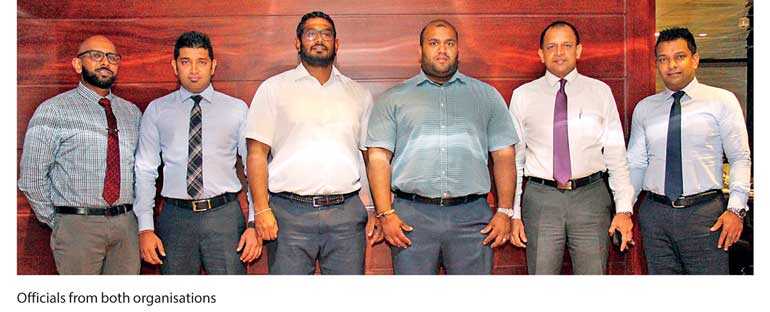 LB Finance PLC signed a Memorandum of Understanding (MoU) with BRJW Enterprises Ltd. to offer exclusive maintenance benefits and customised leasing packages with special interest rates for customers approaching BRJW Enterprises Ltd. to buy any vehicle. LB Finance Deputy General Manager (Credit and Branch operations) Ainsley Motha and BRJW Enterprises Ltd. Group General Manager Ranga Wimalasuriya signed the MoU on behalf of both organisations.

LB Finance PLC DGM Credit and Branch Operations Ainsley Motha stated, "This agreement between the two companies will provide multiple unmatched opportunities to customers when purchasing their favourite vehicles that widely range from small, medium, high end to luxury sedans and SUVs with competitive prices from BRJW and exclusive leasing packages from LB Finance PLC. While ensuring maximum convenience, LB Finance will provide a personalised service for each customer that enables them to design and select repayment plans according to their needs, income and repayment capacities. Adding up to the benefits, an exclusive free maintenance will also be provided which includes a variety of free services including maintenance for lubrication, filters and fluids and many more. Moreover, the customer has the option of upgrading the vehicle after three years of usage."

Established in 1971, LB Finance PLC has become a trusted and a much respected financial company in Sri Lanka. As a finance company close to the hearts of Sri Lankans, LB Finance PLC continues to offer attractive financial solutions ranging from Leasing, Gold Loans, Mortgage and Housing Loans, Islamic Financing, Fixed Deposits and Savings accounts, Factoring, Margin Trading and many other financial solutions. Moreover, LB Finance PLC's long term rating of 'A-(lka)' Outlook Stable was affirmed by Fitch Ratings Lanka Ltd during the annual ratings review of NBFI.

Ranga Wimalasuriya said, "As Millennials seek an experience driven service – gone are the days when one would use a vehicle for a prolonged period of time – i.e. 5-10 years before changing. Especially with rapid changing technology and trends, the automotive sector too has to become flexible to cater to their needs of hassle free maintenance and shorter use duration of vehicles – this is what the 'BRJW-LB' scheme will allow us to do. The objective of the scheme is to provide: Affordable monthly payments and minimum initial down payments – exclusive to the scheme for luxury vehicles, hassle free maintenance and servicing, buyback guarantee or trade in of vehicle at after usage of three years."

A customer leasing a vehicle will invariably look for a minimum down payment and an affordable monthly payment. Therefore, with this special scheme, one will be entitled to pay a much smaller monthly payment with the understanding that an optional balloon payment will be settled at the end of the three-year period of usage, to own the vehicle. Further, the customer will also have the option of trading the vehicle (excluding the balloon payment) for an upgrade with BRJW at which point, BRJW will buy back the said vehicle given the service and maintenance criterion is fulfilled. Either or, the scheme covers all maintenance and servicing as part of the monthly payment associated with the lease for the customer.

Some of the vehicle ranges that are covered in this scheme are:

Audi – (A1 S/A3 S line), (A5 S line), BMW – (X2 & X5) used and brand new, Mercedes Benz – (C200 Convertible ~ 2018), (C200 Sedan ~ 2018), HONDA – (Civic Tech Pack – 2018), (CRV – 7 Seater – 2018), Nissan – (Leaf Tech Pack~ 2018), Suzuki – (SX4 Cross ~ 2018), Volkswagen – (VW Tiguan ~ 2018), Range Rover – (RR Vogue ~ Autobiography – Short Wheel),(RR – Vogue ~Autobiography-Long Wheel), (RR Sport~Autobiography Sport), Bentley – (Bentley Continental Convertible ~ Dragon Red), Maserati – (Maserati Ghibli S – All Wheel Drive ~ White) and many more.