Reuters: WPP, the world's biggest advertising company, said it would hit its challenging full-year forecasts after solid trading in Europe helped its sales to accelerate in the third quarter.

WPP, which handles the advertising needs of brands such as Ford and Unilever, reported third-quarter like-for-like net sales growth of 3.3%, compared with the 2.3% in the first half.

The update from WPP, run by Martin Sorrell, is more upbeat than third-quarter sales from rival Publicis last week, where the French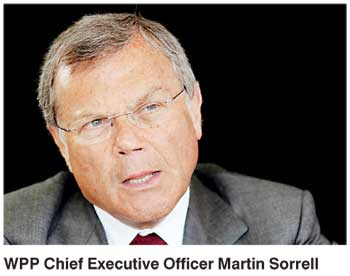 company cut its full-year outlook.

Sorrell said trading in the United States had remained solid while it enjoyed good demand in Germany, Spain and to a lesser degree Italy. The group said a restructuring undertaken after the financial crisis took longer to take effect in Europe than many other parts of the world.

WPP also said trading had improved slightly in China, although the world's second largest economy remained under pressure.

"We don't expect any major changes to consensus," Liberum analysts said in a note. "We remain cautious on the agencies but we do see WPP as the best positioned of the agencies and see these results as confirmation that Publicis recent weak results are likely due to firm-specific issues."

Analysts said WPP should benefit from more favourable comparatives in the fourth quarter as it did in the third. This would help the company to hit its full-year forecast of net sales growth of more than 3%. This was at 2.6% for the first nine months.