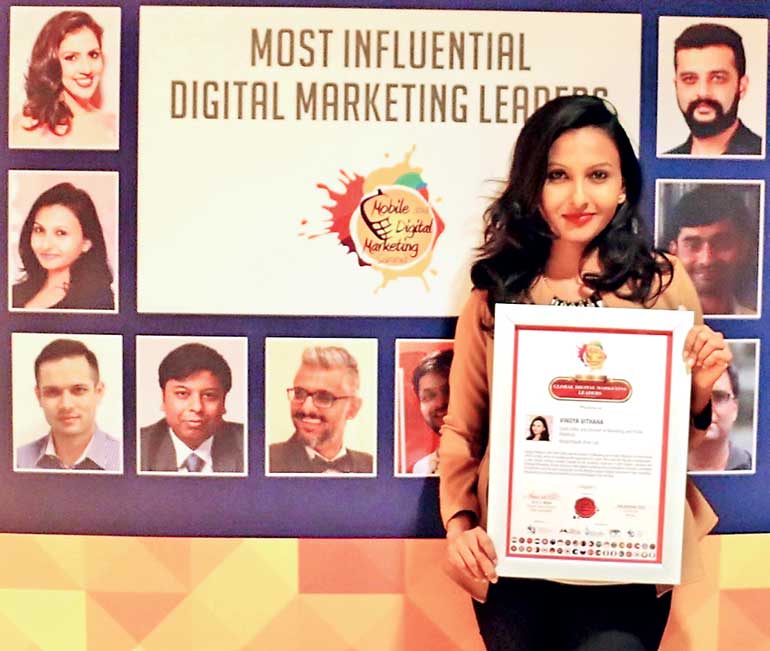 Vindya Vithana, Chief Editor and Director of PR and Marketing at Xtream Youth Ltd., has been named one of the '50 Most Influential Global Digital Marketing Leaders' by the World Marketing Congress. This prestigious accolade was presented at the 2016 'Global Marketing Excellence Awards' at Taj Land's End, Mumbai on 24 November.

The '50 Most Influential Global Digital Marketing Leaders Award' is a result of an intensely researched process by an esteemed panel of judges which consists of producing a shortlist of individuals who are doing extraordinary work and track the record of their achievements.

The shortlist is then reviewed by a Jury comprising of senior professionals from across the globe. The criteria adopted in this award includes Marketing Competencies, Strategic Perspective, Track Record, Integrity and Commitment to Sustainability (Business, Social and Environmental). Candidates from more than 60 countries are considered for this award.

Vithana also owns Apostrophe', a company which focuses on content marketing and SEO. She is an alumna of Visakha Vidyalaya, University of Colombo, and a member of Chartered Institute of Marketing (CIM).

At 25 years of age, she is the youngest recipient of the award this year. In addition to consulting for both tech and non-tech businesses on the effective usage of digital resources in their marketing, Vindya is active in the tech blog sphere, sharing her expertise in entrepreneurship and growth hacking mainly for startup businesses.