Two managers at Singer Sri Lanka, Lahiru Weerasinghe, Senior Brand Manager – Water Pumps and Niranjan Sethunga, Senior Recoveries Manager – Singer Finance, received the prestigious President's Club Member Awards at the company's Annual Marketing Convention held recently. The President's Club Member is awarded annually by Singer Asia to two executives below the level of Director for an excellent track record of performance over the preceding years.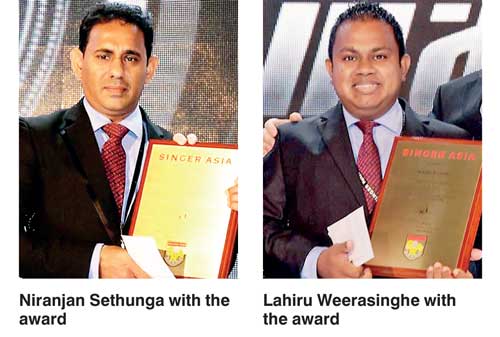 The coveted award amplifies Singer Sri Lanka's focus on developing its people. The company was ranked among the top 25 Best Companies to Work for in Sri Lanka for the third consecutive year in 2016 by the Great Place to Work Institute in a study that evaluated over 75 companies representing 15 industries.

Lahiru joined Singer in 2006 as a Trainee District Manager and climbed the corporate ladder as District Manager, Brand Manager and to Senior Brand Management in 2016. His outstanding performance as Senior Brand Manager, Water Pumps included expanding the product line in every segment in addition to new product launches and product improvements. He was also responsible for enhancing the quality of his sales staff and engaging in strategic marketing and sales promotions that resulted in commendable performance of the product. Lahiru holds an Advanced Diploma in Marketing Management from NIBM.

Niranjan Sethunga is a success story of the rise of a candidate picked under the mentor program for university Graduates organised by the Ceylon Chamber of Commerce. Niranjan joined Singer in February 2001 as a Graduate Mentee and was identified for his skills and became an Accounts Supervisor. He rose through the corporate ladder as Credit and Collection Officer, Assistant Manager – Recoveries, Manager – Recoveries and to be Senior Recoveries Manager at Singer Finance. Niranjan holds a Bachelor of Commerce (Special) Degree from the University of Kelaniya with Second Class Honours.