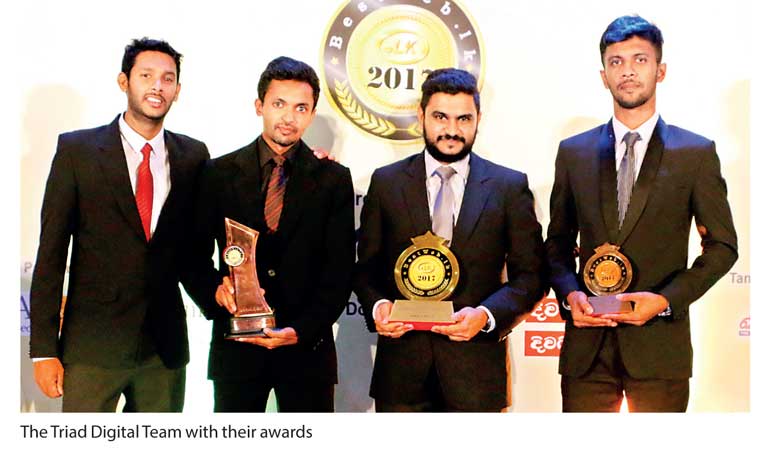 Triad Digital secured three prestigious awards at the recently concluded Bestweb.lk Awards Ceremony held at the Grand Ballroom of Galadari Hotel. Bestweb.lk, a contest hosted by LK Domain Registry, honours high performance websites under nine main categories, and is open to organisations from both private and public sector across all disciplines and industries.

Triad Digital, the digital arm of Triad (Pvt.) Ltd., Sri Lanka's foremost creative conglomerate, takes pride in offering specialised digital communication services based on strategic planning and insightful creative conceptualising to best suit the digital media. Catering to a wide clientele with web, social media, branding, mobile applications as well as digital marketing solutions, the company also provides digital strategy advice, digital performance monitoring and improvement, operational management in addition to data and analytics. Operating on multi-dimensional platforms, Triad Digital delivers pragmatic strategies backed by meticulous analysis, supporting a brand's growth from local to global platform.

The official website of NSBM Green University designed by Triad Digital won the Gold Award for Education and Professional Services Category and Bronze Award for Overall Best Website, while Triad Digital also bagged the Award for Best Website Developer. As the first ever green university in South Asia, NSBM Green University is a role model of environmental sustainability for the entire region. Established under the purview of the Ministry of Skills Development and Vocational Training, the university offers world class academic infrastructure and amenities for its students.

The website NSBM.lk was designed and developed from scratch by the Triad Digital while incorporating innovation and strategic ideation and it was launched in conjunction with the opening of NSBM Green University Town. Triad Digital's exclusive web solution has made NSBM.lk a highly interactive and user friendly website with easy navigation, allowing fast access to essential information with a touch of a finger.

The Bestweb.lk contest crowned Triad Digital's NSBM website with three prestigious titles, once again reaffirming the company's expertise and flair for offering strategic web solutions. Websites vying for the titles were evaluated under four criteria including technical, design, content and interaction aspects, where the panel of judges offered 70% of points, while voting and web traffic contributed 20% and 10% of points respectively. Bestweb.lk conducted the contest for the seventh consecutive time, and the contest offers an ideal platform for Sri Lankan websites to showcase their creativity and talents while promoting their brand names online.