By Hari Krishnan and Dilshara Jayamanna,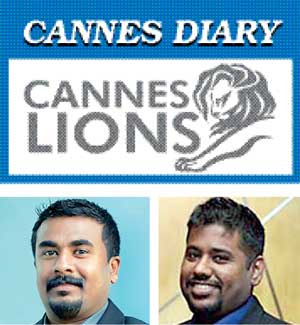 reporting from the Cannes Lions International Festival of Creativity

Day 1 at the Cannes Lions and indeed our Cannes Diary too started off with the bold message of 'Entertain or Die'. On day 4, the festival seemed to take this message to heart as it pumped out a day full of entertainment filled with some of the biggest names in the global entertainment business.

Kicking off things on day four was the charmingly brilliant Artistic Director of Conde Nast - Anna Wintour, who spoke about 4 methods she uses with her magazines to find their way in the digital age. For those who don't know, Anna Wintour is the person on whom the movie 'The Devil Wears Prada' is based on.

She spoke of the importance of staying nimble and referenced the Caitlyn Jenner story to describe how brands need to be unafraid to take risks when a big story comes along and explained how that pays off in building an audience over time. She then moved on to how we need to 'dare to be different' and used Amy Schumer (popular American comedian) and James Corden (popular host of The Late Late show) as examples of artists/brands that have redefined their respective spaces by daring to deliver different and unexpected twists to tried and tested categories like stand up comedy and late night chat shows.

Wintour then explained her unique theory 'Use all your gold' here she referenced the leaked Gigi Hadid shoot and how her magazine responded to the leak by releasing the entire shoot on their own website bringing all the attention back to where it belonged. Lastly she spoke about the importance of 'Making interesting friends' referencing Ryan Murphy's show American Crime Story: The people vs O J Simpson and how Murphy entered into a series of collaborations that resulted in the creation of a massively successful show.

She also cited Brandon Stanton (creator of the blog 'Humans of New York) among her many interesting friends who inspire her. She rounded off her talk with the poignant message that today's world is less about the newsstand and more about standing up to deliver the news; a striking message from one of the most experienced editors in the business. If anyone could drown out the deafening applause that resounded the Lumière Theatre was the next person who walked on stage – The Fresh Prince of Bel Air himself, Will Smith. Edelman's Jackie Cooper interviewed the American superstar in a riot of session titled 'The Pursuit of Impact'.

Smith drew from a series of experiences from his own family through the years to highlight the importance of authenticity in creativity and the importance of understanding the impact creativity has on the larger world. He first understood this himself when his grandmother stumbled upon what he called his 'curse book' when he was a teenager.

Learning the lesson that what he writes affects more people than himself he set out on a journey to connect deeper with his audience and what they were looking for. Stating that a deeper comprehension of people results in the creation of products that are more appealing, he referenced Steve Jobs' drive to 'Blow his customers' minds' using the reference as an example to shine a light on how we should shift our thinking from product to people. People have changed and how they think, work, play and love has changed and so has the way they consume content especially with the advent of technology. Will Smith spoke about how his son Jaden enlightened him that 'cheating on your significant other was a thing of the past because of technology'. Cameras and people sharing everything they see and feel is so ubiquitous now that a young person looking to stray has nowhere to hide.

This is the same with movie producers now, he quipped, explaining that movies could use a well edited trailer to draw audiences to a big money opening weekend and it would be the Wednesday of the week after that any bad reviews came out. People now start tweeting about how good or bad a movie is from the cinema itself resulting in the movie flopping on its opening day. The people now have the power and it is vital to provide them with something authentic because if not they will know and they will let the entire world know. Smoke and mirrors in marketing is over, he added, his disarming laugh belying the seriousness of the statement.

A hastily-eaten ham and cheese sandwich later it was time to listen to the I Heart Radio session that teamed up Ryan Seacrest with RnB sensation Usher. In a message that spoke about audacity and tenacity Usher explained the importance of having the chutzpah to go after what you believe in and the goals you want. He spoke about his NBA finals winning team the Cleveland Cavaliers who turned around a 3-1 deficit and beat the Golden State Warriors in a display of tenacity that set sports fans hearts on fire. This kind of performance from brands creates an immeasurable amount of brand engagement and love.

It was then time to move to the Palais II where the Innovation Lions were taking place and listen to the founders of 72 and Sunny who were explaining why you don't need an innovation department to be innovative as an agency. They spoke about the importance of dreaming big but starting small and creating a culture of optimism by practicing it day in day out in everything that we do. Because if we foster optimism we foster innovation. Back in the Lumière, it was Google's chance to shine with their session Adventures in Virtual Reality. Google's Jessica Brillheart opened the eyes of VR filmmakers 360 degrees wide as she spoke about how the cornerstones of conventional filmmaking are completely shattered with VR. In VR there are no frames there are worlds, there are no viewers there are visitors, nothing is presented to you – you discover things yourself.

She used brilliant visual examples to illustrate these amazing concepts and also showcased innovative camera rigs used to capture this next dimension of filmmaking. Google then brought on stage Glen Keane, one of the original artists who animated Disney's Little Mermaid. Coupling Google's Tilt brush with an HTC Vive headset and a depth sensors Keane drew a virtual Ariel which left the audience breathless.

The final session of the day took us to the Debussy Theatre where Andrew Bennett, Global CEO of Havas was in conversation with Troy Carter, Chairman and CEO of Atom Factory – the diversified entertainment company which manages celebrated talents such as Lady Gaga, Meghan Trainor, Charlie Puth and John Legend. Atom Factory is also a leading investor in firms like Uber and many other start-ups.

Carter was strong in his condemnation of brands lacking the authenticity it takes to engage with a modern audience. He spoke about how deeply involved his artists are with their audience and how they as a management company do not get involved with the artists' personal social media feeds leaving it to the artist to authentically engage with their audiences. He went on to explain how an artist like Meghan Trainor stands for authenticity of women's bodies in a world of digital retouching and how Lady Gaga has ultra-strong connections with the LGBT community.

He explained the importance of keeping it real and staying authentic and then trying new things within a category and then no matter how sleepy the category is you can be successful. He used the case of Beats by Dr. Dre to show how a sleepy category like headphones can get an explosive turnaround if done right. His example here was how he found his son wearing a Beats headset without wires at a basketball game even though it wasn't a wireless headset. The boy was wearing it as a fashion statement. If headphones can become fashion, then anything is possible. You just have to stay true and do it right.

Day 4 was packed with amazing names, experiences and learning. Time to go to the beach, the Côte d'Azur was calling.
(Hari Krishnan is Chief Executive Officer, MullenLowe Sri Lanka and Dilshara Jayamanna is Senior Vice President/Executive Creative Director, MullenLowe Sri Lanka.)