From left: CAA Director Consumer Affairs and Information Chandrika Tillekeratne, CAA Executive Director Dr. M.M. Hilmy, CAA Executive Director A.H.M. Anwer, CAA Chairman Hasitha Tillekeratne, Hameedia Group Deputy MD/SLRA Lead Convener Hussain Sadique, LAUGFS Supermarkets COO A. Wickremage, Keells Super Jaykay Marketing CEO Charitha Subasinghe, LAUGFS Supermarkets DGM Chaminda Wijesinghe and Retailers-Connect Leonard Perera
A team of officials from the Sri Lanka Retailers' Association (SLRA) recently met with the Chairman and top officials of the Consumer Affairs Authority (CAA) in order to promote the 'World Consumer Rights Day' to be held in Sri Lanka on 15 March and the following 'National Consumer Rewards Week' during the week of 14 to 20 March. Both events have been initiated and organised by the CAA.

SLRA with its motto 'Connecting Retailers to Create Value for Consumers' is under formation and pioneered by leading retailers Abans, Keells Super, Cargills Food City, Laugfs, Healthguard, Swarnamahal Jewellers, No Limit, Cool Planet, DSI and Hameedia.

Hameedia Group Deputy Managing Director and SLRA Lead Convener Hussain Sadique hailed with enthusiasm the initiative of the CAA Chairman Hasitha Tillekeratne and proposed a 'Consumer Shoppers Week' to coincide with the campaign during this period by offering discounts, benefits and other special offers and educating and promoting consumer rights through its prospective membership.

World Consumer Rights Day was founded and inspired by a speech made by former US President, John F. Kennedy on 15 March 1962 to the United States Congress in which he inscribed four basic consumer rights, consequenting the US Consumer Bill of Rights. The United Nations through the United Nations Guidelines for Consumer Protection expanded these into eight rights, and thereafter Consumers International adopted these rights as a charter and started recognising 15 March as World Consumer Rights Day.

Following Global Voice for Consumers, Consumers International, the CAA will commemorate World Consumer Rights Day 2016 with the theme – 'Crown the Consumer' – and promote the National Consumer Rewards week with several consumer rights awareness activities including a Consumer Forum focusing on this year's International theme – 'Antibiotics off the Menu'.

The SLRA envisage joining this initiative in future as a retailer activity to enhance value to consumers. This will be one of the key events of the Association in its annual calendar of activities. Going forward the SLRA will look to launching Sri Lankan shopping promotions and festivals to attract tourists just like in other countries in the region such as Dubai, Singapore, Bangkok, Malaysia, etc.

Members of the retail industry are invited to participate in this national campaign. For more information, please contact Shakila Weerasinghe on 0765429776 of the Consumer Affairs Authority or the Sri Lanka Retailers' Association (SLRA) Secretariat: No. 30, Amarasekara Mawatha, Colombo 5. Email: [email protected], or Leonard Perera, Project Manager, Sri Lanka Retailers' Association on 0727 354 880.
---
CAA launches 'Crown the Consumer' initiative
By Hiruni Dabarera

The Government yesterday announced the first-ever 'Reward the Consumer Week'from 14 to 20 March in a bid to provide welfare for the people.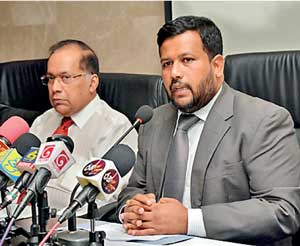 The initiative was launched by the Consumer Affairs Authority (CAA) which is dedicated to safeguarding local consumers, under the patronage of Industry and Commerce Minister Rishad Bathiudeen.

He stated that this initiative was launched in celebration of the World Consumer Rights Day which falls on 15 March.

During the weeklong celebration, a range of products and services from over 60 leading local companies will be offered at discounted prices and promotions at 6,000 of their outlets countrywide.

These include FMCGs like retail pharmaceutical, supermarkets, banks, bakery, hotels, hospitals, telecommunication services, beauty products, fast food, insurance services, automobiles and air tickets.

Minister Bathiudeen said the CAA did not charge any fee from the companies or partnering companies and does not undertake this initiative to promote any product or partnering company. "This is done solely with the objective of improving the purchasing patterns of Sri Lankan consumers," the Minister added.

According to the Minister, 35% of expenditure of an average household is incurred on food and beverages. When comparing this percentage with the rest of the world it is a quite notable figure.

Bathiudeen further stated how expenditure on personal care has increased among the younger generation in the past few years.

"As per recent research the youth are also more concerned on the brand image of products. However among the general public the FMCG items within a narrower price range of Rs.30 to Rs.45, have recorded the highest sale," stated Bathiudeen.