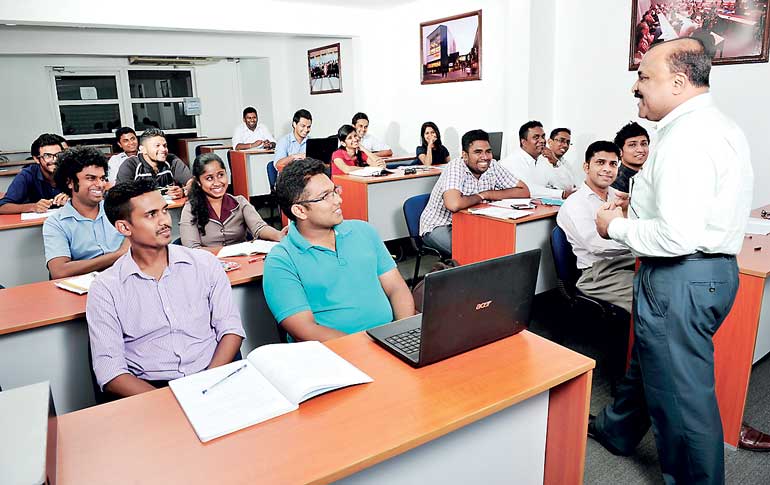 SLIM CIM lecturer G.S. Sylvester conducting a class
Sri Lanka Institute of Marketing (SLIM), the national body for marketing, is one of the foremost educational institutes offering Chartered Institute of Marketing (CIM) in Sri Lanka. G.S. Sylvester is a professional marketer and a renowned marketing tutor with over 25 years of teaching and training experience. He counts over 30 years of marketing and sales experience, which includes 23 years in senior management, and is currently the Country Director of Adventus Education. In this interview, Sylvester speaks about the factors which make SLIM the ideal institute to study CIM. Following are excerpts:
---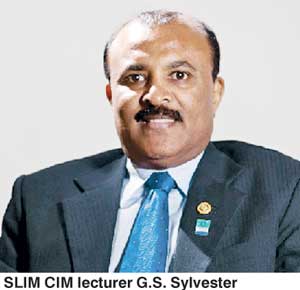 Q: What sets SLIM apart from other institutes which offer CIM qualifications?

A: SLIM is the national body of marketing in Sri Lanka and the students get to study at in institute which has been set up through an of Act of Parliament, which is unique to SLIM. Our students can say with pride that they are studying at the national body for marketing and this is definitely an advantage. Secondly, SLIM is the longest serving institute accredited by CIM UK to teach CIM in Sri Lanka, so we have been doing this longer than any other institute.


Q: How does SLIM add value to the CIM qualification through its delivery?

A: SLIM is an educational institute which focuses heavily on education. When a student comes in we make sure that student understands the importance of the education he or she is about to receive. We have produced many World Prize Winners in CIM, because we make sure students receive a well rounded understanding of marketing.

We provide one-to-one coaching for assignment writing, which is an important element in the examination. We carry out examination seminars and mock exams. Sometimes our lecturers carry out two to three mock exams so that students are better prepared for the exams. We are equipped with a library with the latest recommended textbooks, so a student can always go and improve their knowledge at the library.


Q: As a lecturer who has taught at SLIM for over two decades, how would you say the panel of lecturers enhances the delivery of education?

A: We have an excellent panel of lecturers, who are highly experienced, with some of them having taught marketing for over 20 years and others with over 10 years of experience. They also have wide experience in business-to-business and in a variety of fields as well, with most of them having worked in high level positions in the corporate sector for 10 to 15 years. Therefore, they come with a lot of practical knowledge and exposure which are transferred to the students through knowledge sharing. This also makes them better suited to answer any questions posed by students. The lecturers go beyond the syllabus to ensure that students understand the concept of the subject. So we are not confined to the syllabus and do more than the minimum which is required by the syllabus and also provide soft-skills training as well.


Q: What personal development opportunities do students have at SLIM?

A: SLIM has a wide range of members consisting of top marketing professionals and we have networking events such as membership nights, membership get-togethers and lecturers meetings. These events provide an opportunity for students who are SLIM student members to participate in these events and get exposed to top marketers, build relationships with them, network with them and be inspired by them. This is an opportunity they might not have at any another institute.

SLIM students can also join the sub-committees of various national level events organised by SLIM which include industry leading events such as Effie Sri Lanka, Brand Excellence, People's Awards and NASCO. This allows them to develop their planning and leadership skills as well.

In addition to that, SLIM organises Experience Sharing Forums (ESF) where we bring in top marketers and entrepreneurs to conduct sessions for SLIM members and talk about their careers and products.

SLIM also brings in top international marketing personalities. For example, we brought down Marketing Guru Philip Kotler, which was a landmark achievement in the local marketing industry, and gave a concessionary price for students to attend the event.

So we offer a lot of opportunities for students to learn and interact with top marketers and develop their knowledge, going beyond mere teaching.


Q: How does SLIM ensure student satisfaction, particularly for CIM students?

A: Most students who follow CIM are a very focussed and fairly serious minded set of students. They expect more from the lecturers and I am very confident in saying both CIM and SLIM have consistently met those expectations. We ensure the students are happy at SLIM, and the lecturers and staff play a vital role in terms of ensuring that the students enjoy the studies at SLIM. Having lectured at SLIM for the past 25 years, I would confidently say that we look into the needs of the students to ensure that they get the best education and a superior learning experience.


Q: In addition to being an experienced CIM lecturer, you are the head of the Education Reforms Committee (ERC) of SLIM. What role does the ERC play in improving CIM education at SLIM?

A: In terms of reforms, we can't do much with CIM as it is a UK qualification. But we make sure that the CIM lecturers maintain international standards in terms of delivery and results and we constantly improve the facilities which we provide to students. We also evaluate students and find out whether they are happy with the services of SLIM. Therefore, ERC has a major role to play in terms of lecture evaluation and facilities and in ensuring quality education is provided to all CIM students.