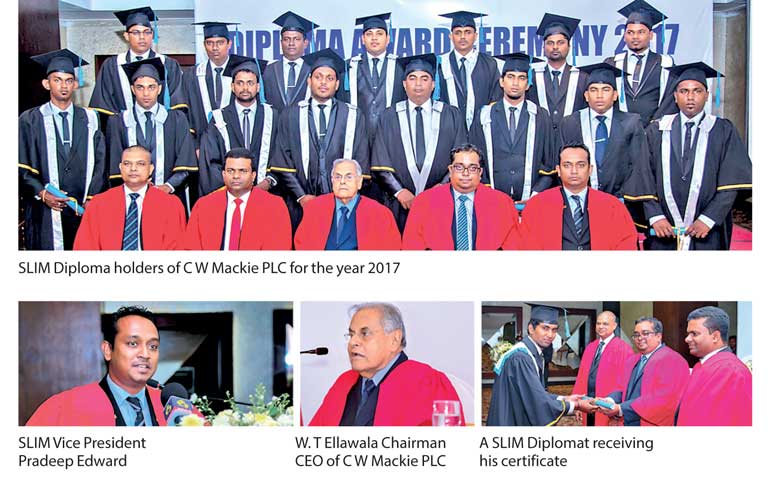 Sri Lanka Institute of Marketing (SLIM), the national body for marketing, grooms aspiring marketers in organisations to become fully fledged sales/marketing practitioners with tailor-made training programs.

SLIM conducted an award ceremony recently to offer certificates to the latest batch ofC W Mackie PLC employees who successfully completed the SLIM Diploma in Sales Management.

The event held at Eagle Ballroom, Waters Edge saw the participation of over 150 people fromC W Mackie PLCand SLIM.

Certificates were offered to 15 C W Mackie PLC employees who successfully completed the Diploma. Parents and immediatefamilymembersofthecertificateholders, C W Mackie PLC management together with a SLIM council member and staffmembers attended the occasion. The head table was occupied by SLIM Vice President Pradeep Edward, SLIM CEO/Executive Director Sanath Senanayake, Dr.Nalin Abeysekera (Guest Speaker), C W Mackie PLC Chairman/CEO W.T. Ellawala and Executive Director Mangala Perera.

C W Mackie PLC signed an MoU with SLIM in September 2015 to professionally qualify its sales staff.Ever since, via the SLIMDiplomainSalesManagementprogram,C W Mackie PLC employees were bestowed withthorough knowledge in the subject whilst gaining the qualification.

The tailor-made Diploma is aimed at developing sales skills of C W Mackie PLC employees to gear them with the ability to meet challenges in the volatile and challenging business arena. The course also sheds light on personal development of these employees that endow them with the strength to help organisation to achieve its business goals.

C W Mackie PLC, Executive Director Mangala Perera wishing the certificate holders said SLIM program will help C W Mackie PLC employees to achieve greater heights.

"Practicing sales and marketing to suit local context is vital. Thus sales and marketing has to be thought and applied locally with a global knowledge to reap benefits in a competitive environment. In this context, we appreciate SLIM's involvement in enhancing the knowledge of our sales and marketing force," said Perera.

He added: "What we have done is an investment. We want our employees to grow in their careers that will reflect on the company's growth and their personal development. Our company has immense potential to grow and employees are the backbone who champion this growth."

C W Mackie Chairman/CEO Ellawala said the company is poised to take abilities, skills and professionalism of its employees to the next level. SLIM has made a bigger contribution in guiding them in-to that path towards success. Guest speaker Dr. Abeysekera said currently companies globally use emotional intelligence effectively to attract customers and SLIM Sales Diploma stimulatesemployees to ignite their emotional intelligence. SLIM Vice President Edward deliveringthevoteofthankspaidgratitude to C W Mackie PLC for relying on SLIM to train their employees and sponsoring the program. "We have built a long term relationship with C W Mackie PLC which we consider as an endorsement from the corporate sector towards the credibility of SLIM tailor-made programs. SLIM never compromises with the quality of its education. We hope more companies will join hands with SLIM to train their staff," he said.