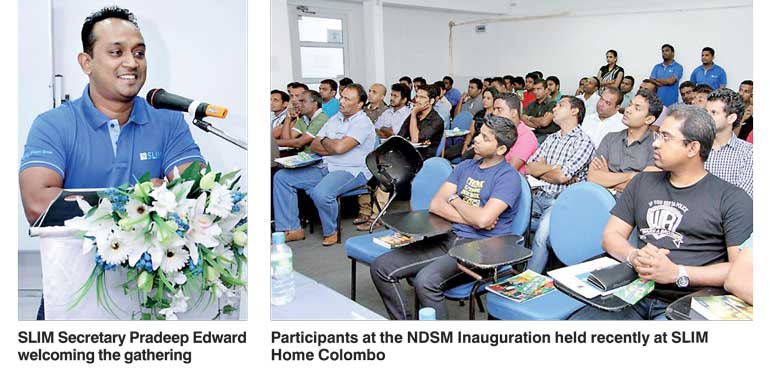 Sri Lanka Institute of Marketing (SLIM) recently concluded the inauguration of the National Diploma in Sales Management (NDSM), with the aim of educating the students about the NDSM program and SLIM.

The inauguration was carried out with the participation of a large gathering of enthusiastic sales personnel at SLIM Home recently. Important insights were given to them about sales management and the advantages. One specialty was that, a number of students from the participants were jubilant winners of NASCO 2015.

The informational session provided the students an opportunity to gain a wealth of knowledge about NDSM. This paved the way for them to make an informed decision to pursue this highly recognised qualification from SLIM, the national body for marketing. Students who enrol for this diploma program of one year duration, can complete the course at SLIM Home.

SLIM President Ruwan Liyanagamage stated: "SLIMs objective and indeed my personal vision is to aggressively promote sales management among the working crowd engaged in the sales field in Sri Lanka, and provide a proper environment and necessary tools for the students to be exposed to it. I am confident that this diploma will enhance the sales skills of these students enabling them to drive growth in sales of their respective organisations."

Pradeep Edward and Sanjeewa Samarasinghe graced this event as invitees and Pradeep Edward welcomed the gathering mentioning that, "The return is higher for students from NDSM who are in the sales field and even for those who are not, as it is a methodical and productive program. Students will have the confidence to move forward in the real world due to the emphasis on practicality within NDSM and I highly recommend the program."

SLIM CEO/Executive Director Sanath Senanayake said: "The success of the program so far has been extremely pleasing and I would like to thank all invitees for the encouraging messages shared by them and their resounding recommendations."

NDSM is a program which caters to sales career minded candidates seeking to acquire specific competencies to differentiate themselves from conventional sales personnel. It is also suitable for those in the marketing or business development force intending to enhance their skills in sales management and move up the career ladder.