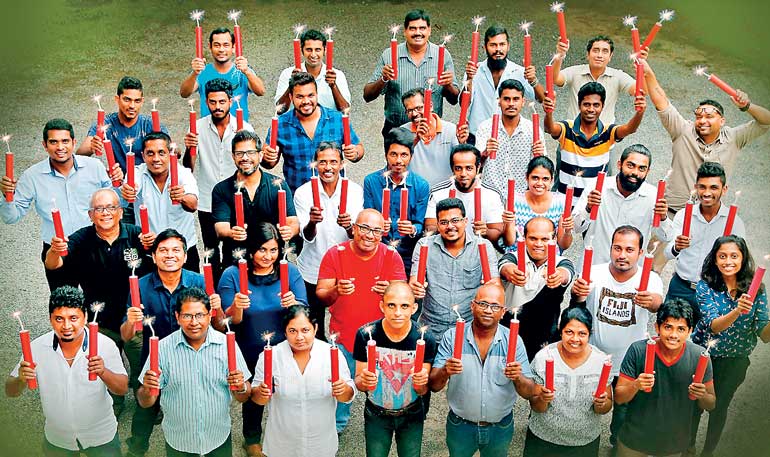 Sarva Integrated, which recently won two Gold Abbys and a Best of South Asia Award at Goafest – India, celebrated its 11th anniversary by treating the Sarva crew to tea at The Kingsbury Colombo.

Started as a small, five man operation with three clients in 2005, Sarva today has over 60 employees, a portfolio of prestigious brands and a reputation for developing insight based ad campaigns that capture the market and increase client sales.

Combining research, strategy and insight with out-of-the-box creativity, Sarva is today one of the few agencies in Sri Lanka that has successfully grown in size and achievement by retaining key employees and prestigious brands, some of whom have been with them for over a decade.

Sarva Integrated Managing Director Chrishantha Jayasinghe said: "Our focus has always been on creating explosive growth for our clients, not winning awards; and that's why today, we have earned a strong reputation as an agency that walks the talk by delivering impressive growth figures to every brand we handle. I am really grateful to all our clients for entrusting us with their valuable brands; and of course my team, without whom none of this would be possible."

Citing its unique approach for its consistent success, Sarva Integrated Director Operations Suresh Jayaweera said: "Every brand is unique and our commitment to our clients is absolute. That means we go that extra mile, study market behaviour and find the root cause of even the slightest change. This approach has yielded rich dividends by boosting client revenue and helping us build a portfolio of long-standing clients who support us in every way because we make sure their brands go only one way – Up."

Noted for their ability to 'turn brands around' Sarva has been responsible for the success of many a prestigious brand over the years. Denta sales in 2013 doubled in less than a year with Sarva's 'Beautiful Smile' campaign and the brand has to date been registering a 500% growth rate. Softlogic Finance Fixed Deposit assets increased from Rs. 1 billion to over Rs. 8 billion in 2014 with Sarva's 'Easy to Deposit, Easy to Withdraw' campaign and has recorded significant growth to date.

Asian Alliance 'Click2Claim' registered a six fold growth in 2015 with just one creative radio commercial done by Sarva; while Pan Asia Bank Credit Cards registered substantial customer growth that same year with the 'Pay only 1/3 the interest on your credit card debt' campaign. Commenting on Sarva's success, Asst. Account Manager Ranga Wijesoma said: "Dedication pays off. We do our best for the brands we handle every year and 2016 is no different."

Winning numerous accolades for effective creativity over the past decade, Sarva's most recent wins include two Gold Abbys and a Best of South Asia Award at the highly competitive Indian Advertising Market at Goafest 2016; a Bronze and two Finalist Awards at Effies 2016 (at which six of Sarva's seven entries were shortlisted for creativity and effectiveness); and a "Young Lions – TV" win which sees two young creatives from Sarva heading for France in June 2016 for the world's most prestigious ad event of the year, the 'Cannes Lions International Festival'.

Adjudged 'Most Effective Agency of the Year' at the Effies 2015, Sarva's client portfolio currently includes Pan Asia Bank, Diesel & Motor Engineering PLC, Darley Butler & Co., the NDB Group, Hemas Hospitals, Softlogic Finance, Lanka Bell, Asian Alliance General Insurance, Chevron Lubricants, Hutchison Telecom and Union Assurance amongst many other prestigious local and international brands.