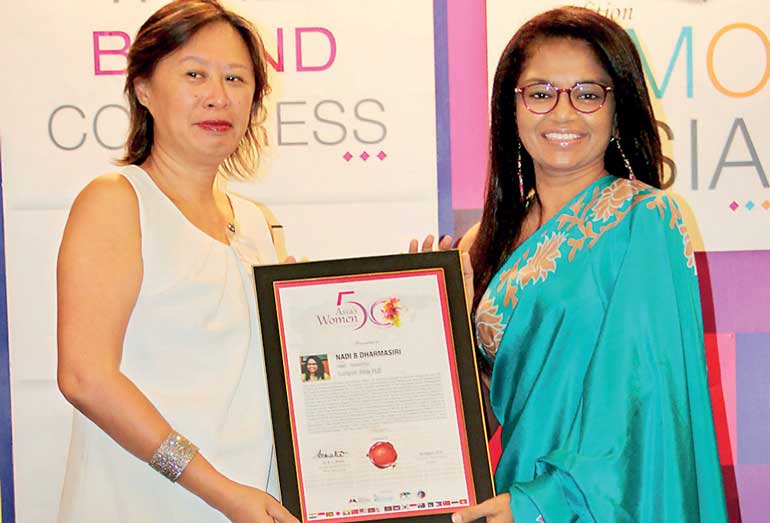 Sampath Bank Head of Marketing Nadi Dharmasiri (right) receives the Top 50 Women Leaders in Asia Award in Singapore
Nadi Dharmasiri, Head of Marketing at Sampath Bank, was recently recognised as one of the Top 50 Women Leaders in Asia, at the 7th edition of the CMO Asia Awards in Singapore on 4 August.

The awarding board shortlisted the professionals based on the following criteria - Strategic Perspective, Future Orientation, Track Record, Compliance, Integrity and Ethics, Ability to Foster Sustainability and Marketing Competencies.

Dharmasiri holds a Master of Business Administration (Merit) and Advance Certificate in Executive Management from The Postgraduate Institute of Management, The University of Sri Jayewardenepura and a Postgraduate Diploma in Marketing from the Chartered Institute of Marketing UK. She is a member of the judging panels of Bright Sparks – Effies Awards 2016, IPM People Leaders' Awards 2014 and Young Entrepreneurs of Sri Lanka in 2013. She has also been an Advisory Board Member of ACEF (Asian Customer Engagement Forum) since 2014 and a member of the Technical Committee and Panel of Judges – NCE Export Awards 2013 and 2014.

Dharmasiri's career in marketing in FMCG, Personal Care, Insurance, Advertising, Telco and Banking spans a period of 22 years.

Speaking about this achievement, Dharmasiri said: "I am incredibly honored to be named among the Top 50 Women Leaders in Asia. I hope to continue to raise and strive towards marketing excellence."

Since its inception in 2001, the Chief Marketing Officer Council (CMO) is known for driving thought leadership and advocacy as a global knowledge transfer agent for thousands of senior marketing professionals globally.

The CMO Council boasts over 7,000 members in more than 110 countries who control over 400 billion in annual marketing spend and represent many of the most progressive and adept multinational brands, regional business powerhouses and nimble emerging growth companies in both established and developing nations.

CMO council members meet regularly and provide feedback on regional and local market dynamics as well as strategic marketing issues and priorities.