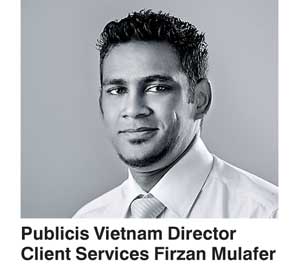 Publicis Worldwide recently announced the appointment of Firzan Mulafer as the Director Client Services of Publicis Vietnam. The Publicis office in Vietnam is part of Publicis One, a global communications enterprise that brings together the Publicis Groupe's extensive range of capabilities and expertise under one roof.

In his previous role heading Publicis Sri Lanka, Firzan oversaw the brand management of the agency's rapidly expanding client portfolio, which included Nestle, Sri Lanka Telecom and other leading local and global brands. Known for being analytical, dedicated and far-reaching, Firzan continuously inspires his team to strive for excellence and added great value to his clients by developing innovative strategies and penetrative insights. A modern, 21st century thinker, Firzan understands and executes integrated communication plans with the precision and grace that few can match.

Firzan has a Postgraduate Diploma in Marketing from the Chartered Institute of Marketing, UK and an MBA from the Postgraduate Institute of Management, Sri Jayewardenepura. He has been with the Leo Burnett Group for more than nine years and has been instrumental in helping many brands under the agency's purview, to reach beyond their targets to achieve ground-breaking levels of success.

In 2011, he was appointed to Leo Burnett Bangkok for a two-year post where he was responsible for managing all engagement planning activities for P&G in the ASEAN region across five key markets. He also served as the ASEAN Regional Planner for Twinings Tea.

Commenting on Firzan's new appointment, Ranil de Silva – Managing Director, of the Leo Burnett Group in Sri Lanka, stated: "The entire agency team would like to congratulate Firzan on his new appointment, we believe that he will make a significant contribution to the Publicis office in Vietnam and add immense value to the agency's client partners. One of the main benefits of being part of a global advertising network such as the Publicis Group, is that high performing professionals are provided with access to a multitude of multi-disciplinary opportunities across the region. It is most definitely an accolade for the Sri Lankan office to have the opportunity to post its team member to other offices across the region. We are delighted that Firzan will be able to embark on this new chapter in his professional journey. My team and I wish him all the best as he takes up his new post in Vietnam."

Also commenting on his appointment, Firzan Mulafer, Director – Client Services, Publicis Vietnam stated: "I'm extremely excited to be joining the Publicis team in Vietnam, especially after being at the helm of Publicis Sri Lanka for so many years. I look forward to growing within the Publicis network and working closely with the agency's diverse client portfolio."

In his new role as Director – Client Services of Publicis Vietnam, Firzan will be responsible for strengthening existing client relationships and building strong new partnerships to support the agency's continued growth in the region and its renewed drive towards integration.

Publicis One is a global communications enterprise that brings together Publicis Groupe agency brands' capabilities and expertise under one roof. Built with clients' interest at the centre, Publicis One recognizes the simultaneous need for specialisation and integration in marketing today. Led by Jarek Ziebinski, Publicis One is one of the new solutions of the Publicis Groupe alongside Publicis Communications, Publicis Media, Publicis.Sapient and Publicis Healthcare.

The Publicis One team, comprising more than 7,500 employees in 50 countries spread across Latin America, Europe, Middle East, Africa and Asia. We are united behind the Publicis Groupe's ambition to deliver on the value of "The Power of One" to its clients.