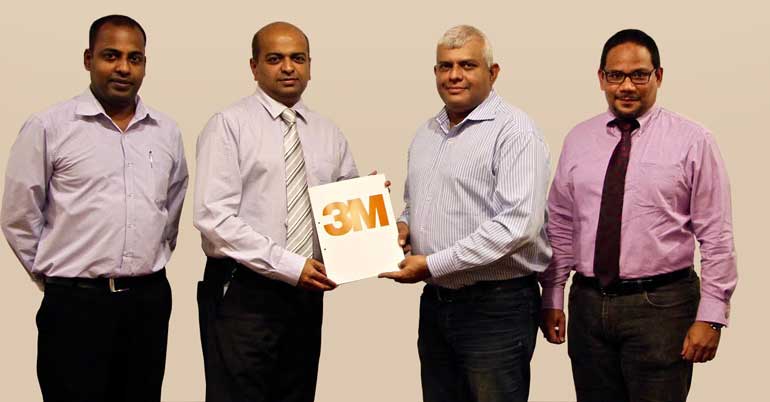 From left: 3M Sri Lanka Head of Marketing Suresh Anandappa, 3M Sri Lanka Vice President Suren Rajanathan, MyDeal.lk CEO Kumar Melvani and MyDeal.lk Director/CMO Mehraj Sally
Pioneer daily deals website MyDeal.lk and online mall MyStore.lk recently announced their strategic partnership with 3M Lanka Ltd., an innovative and diversified technology company providing high quality homecare, car care and stationery solutions under its Consumer Business Group to the Sri Lankan market.

The alliance with the two leading e-Commerce platforms MyDeal.lk and Mystore.lk enhances 3M Lanka's online presence and affirms the strength and reach of the two online retailers.

3M is a company rooted in scientific exploration, and the belief that every problem has a solution. With operations in 70 countries, 3M science impacts the world around us in real ways every day. The local subsidiary of the American innovation giant, 3M Lanka which commenced operations in 1994 has introduced its diverse range of products to the healthcare, manufacturing, automotive, apparel, safety and security, wood working, communication, infrastructure and retail markets in Sri Lanka.

"Both MyDeal.lk and MyStore.lk are well established retailers in the local online marketplace with a diversified and brand conscious database of online shoppers. So as an innovative company looking to diversify our sales channels, we see great potential and opportunity with this strategic partnership," said 3M Sri Lanka Vice President Suren Rajanathan.

Leading Sri Lankan daily deals site MyDeal.lk which recently celebrated four years of its operations, brings together the best deals in town in over 15 different categories. www.mydeal.lk has over 14,000 visits per day and with almost 190,000 fans on their Facebook page, provides the ideal advertising and promotional platform for 3M's range of homecare, car care and stationary products. The 3M range compliments Mystore.lk's extensive product listing and the site guarantees great visibility for the products and ease of purchase to customers. Both online platforms feature a clean and uncluttered user interface, a shopping cart which enables multiple purchases at once, one-click cart review and single checkout.

MyDeal.lk CEO Kumar Melvani said, "We are proud to partner with an innovative and enterprising company such as 3M. We believe that their range of high quality products compliments our aspiration of selling branded goods while the 3M brand adds value to our business as well."

Customers can get the best deals on selected products from the 3M range of Car care, Home care and Stationery products on MyDeal.lk while Mystore.lk will have an extensive selection from the same 3M ranges.