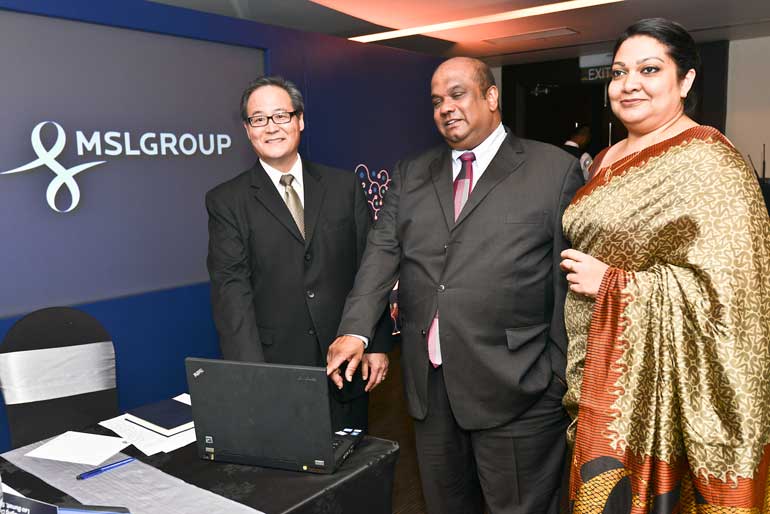 From left MSLGROUP Sri Lanka Director Caryll Van Dort, MSLGROUP Asia President Glenn Osaki and Leo Burnett Sri Lanka Managing Director Ranil de Silva - Pix by Daminda Harsha Perera
By Himal Kotelawala

Sri Lanka's growing economy and stable government have led to an air of optimism that will lead to an improved public relations (PR) industry in the country, a leading international PR professional said yesterday.

Responding to questions by the Daily FT, Asia President of MSLGroup, the flagship strategic communications and engagement consultancy of Publicis Groupe, Glenn Osaki said that a stronger Sri Lanka will help the local PR industry grow.

"I've been impressed [by the Sri Lankan PR industry}. Today, Sri Lanka is a bit more on the tactical side; but that's normal in the development of markets all across the region. I remember when I arrived in China 11 years ago, it was very tactical, the fees were low, etc. But very quickly – over a span of five years – we saw the PR industry become more mature, more professional and the fees grew accordingly. I expect that to happen in Sri Lanka as well. We've seen that in India where the fees have been steadily increasing. Our revenue per employee has increased year after year. And I'm certain that will happen in Sri Lanka as well," said Osaki, who spoke to the Daily FT on the sidelines of a ceremony to announce the presence of the MSLGroup in Sri Lanka by rebranding of the renowned local PR agency Arc PR.

Sri Lankan PR and marketing agencies have been doing exceptionally well on the digital front over the past five years. When asked what more the country can do to improve in this regard, Osaki said that Sri Lanka's high broadband and smartphone penetration rates will result in an increased emphasis on the digital.

"Digital is absolutely crucial. What I see is an opportunity in digital PR. Because we work with earned media (such as Facebook and Twitter) we're able to amplify that and tie that more directly to mobile platforms and ecommerce, to help equate PR to sales. I think there are opportunities in this area – with the new [digital] tool we've developed – that will allow that to happen. I see the digitising of the industry in general, and in Sri Lanka in particular, as the biggest opportunity," he explained.

MSLGroup, according to a media release, is the largest brand reputation advisory network in Asia and Europe and as of yesterday, Arc PR will become part of the MSLGroup. Arc PR handles a diverse portfolio of clients that multinationals such as Coca-Cola, Samsung, Oman Air and local companies such as Blue Mountain Group, CIC, People's Bank, Hirdaramani and Amana Takaful. Arc PR partners with Leo Burnett and other Publicis Groupe agencies in the market and will continue to retain its current team led by newly appointed Director, MSLGroup, Caryll Van Dort. The Sri Lanka operation of MSLGroup will be managed by Managing Director, Leo Burnett, Ranil de Silva. The MSLGroup will function under the guidance of President Asia, MSLGroup, Glenn Osaki.