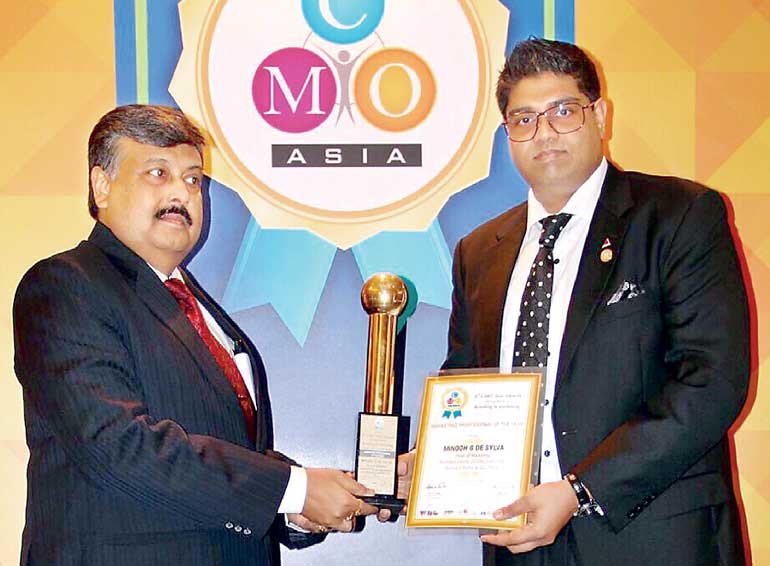 Richard Pieris Companies Head of Marketing Minodh de Sylva (right) receiving the award
Richard Pieris Companies' Head of Marketing Minodh de Sylva was honoured with the coveted 'Marketing Professional of the Year' award at the sixth Chief Marketing Officer (CMO) Asia Global Brand Excellence Awards – 2015 held on 11 August at the Pan Pacific Hotel, Marina Bay, Singapore.

The award which was the most prestigious individual award of the event was presented in recognition of his achievements in the fields of strategic marketing and brand building in Sri Lanka, selected amongst many other senior marketing professionals from 24 countries in Europe, Asia, Australasia and the Middle East.

This is the second international accolade Minodh has won this year following the award for 'Excellence in Marketing & Brand Leadership', presented by the Golden Globe Tigers Awards & Summit in Kuala Lumpur, Malaysia in April.

The CMO or Chief Marketing Officer Asia is an organisation dedicated to high level knowledge exchange through leadership and networking amongst senior CMOs and brand decision makers across industry segments. Previous winners selected by its panel for this prestigious award include Sanjay Tripathi – Executive VP Marketing (HDFC Life), Chandrasekaran Pitre – Snr. Director Marketing South Asia (DHL Express) G.C. Daga – Director Marketing (Indian Oil Company), Damien Cummings – Online Director – Asia Pacific and Japan (Dell) and Muhhamed Awaluddin – Chief Marketing Officer (Telkom Indonesia).

His career as a retail marketing specialist has spanned for 13 years, with more than 10 years in senior management across many challenging industries from FMCG, insurance, healthcare, banking, finance and the retail sectors. He has worked with some of the most celebrated brands in the country namely Elephant House, Ceylinco Insurance (Life), Nations Trust Bank, The Finance Company PLC & Arpico – Richard Peiris & Co. PLC, all of which are featured in the top 50 of the 100 most valuable brands in Sri Lanka rated by Brand Finance PLC (UK).

In his current role he is attached to Richard Pieris & Co. PLC, the sixth biggest conglomerate brand and a diversified group with a rich history of 83 years. Its flagship brand Arpico is one of the most powerful local household brands in Sri Lanka for over 50 years, serving the Sri Lankan consumer with a diverse range of products across many sectors such as retail (supermarkets), manufacturing, plantations, tyres, insurance, finance and FMCG.

Having had the privilege of holding many management and senior management titles at a very early age in his marketing career, he holds the prestige of becoming one of the youngest 'Chartered Marketers' in the country at the age of 26 having attained the Chartered status from CIM (UK) in 2007. He was also awarded the status of 'Practicing Marketer' (SL) from the Sri Lanka Institute of Marketing in 2013 in recognition of his exceptional contributions in branding and marketing.

Minodh has also achieved the recognition for guiding many financial brands at the SLIM Brand Excellence awards. His proven track record has been significantly marked by being one of the youngest members in many senior management teams and board sub-committees in marketing, integrated risk management and asset and liabilities in the financial services sector. He is also a sought after speaker and visiting lecturer in branding, marketing and credit management.