WPP CEO Martin Sorrell has outlined the three
factors he is looking for in new Asia acquisitions: Digital, data and operations in fast-growth markets.

Speaking to Campaign Asia-Pacific in Mumbai late last week, WPP CEO Sir Martin Sorrell suggested the days of the blockbuster acquisition were almost over, with most of the deals likely to be 'smaller, incremental additions' to the existing WPP line-up.

Some of WPP's most recent Asia acquisitions include China's XMKT Marketing and Egift Design and Production, along with Vietnam's Sofresh. And last month WPP PR firm Cohn&Wolfe announced it was to acquire Indian agency Six Degrees.

"The strategy for acquisition is fast growth markets, digital and data to help us with what we term 'horizontality', which is getting people to work together better," he said.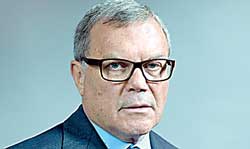 One such example of that, according to Sorrell, is the formation of the Geometry Global | Encompass Network (GGEN), which was announced in India last week.

Billed as India's largest experiential marketing network, the new company will have more than 400 employees across Mumbai and Delhi, and its management and advisory board will comprise senior executives from J. Walter Thompson, Ogilvy, Encompass and Geometry Global. The business will be aligned with J. Walter Thompson South Asia.

"When it comes to achieving horizontality, we are looking for capabilities we don't yet have or where we need to strengthen and can do so through alliances," said Sorrell.

He said the same strategy had been behind two of this year's biggest WPP deals, the purchase of minority stakes in measurement firms Rentrak and ComScore – 15 and 20% stakes, respectively.

Sorrell said he tried to encourage the two companies to work together and that he was delighted when ComScore, which is known for its Internet-traffic measurements, announced two weeks ago it would acquire Rentrak, which uses set-top-box data to measure TV viewing, in a $ 732 million deal. From a finance perspective, the $ 243 million ComScore and $ 154 million Rentrak deals will push WPP's annual acquisition costs to somewhere between $ 650 million and $ 750 million, around $ 150 million more than what Sorrell terms 'a normal year'. Sorrell said digital and data would be the overwhelming focus of WPP's Asia acquisition strategy over the next year, but he also placed great importance on fast-growth markets.

He cited Indonesia, Vietnam and Philippines as markets which appeared to performing well, but added Hong Kong was sluggish and Australia and New Zealand flat. "Myanmar is doing well but from a low base," he added. Likewise Bangladesh, while Pakistan is also fairly good despite the difficulties. "And as I have said before, I remain bullish about India and also China. China is not easy but we are on course to grow by around 4% there this year," he said. "I am not sure the economy is growing at the rate we are told," he said, referring to the 6.9% official figure. In fact I would think it is more like 4.5% to 5%, we are doing ok."