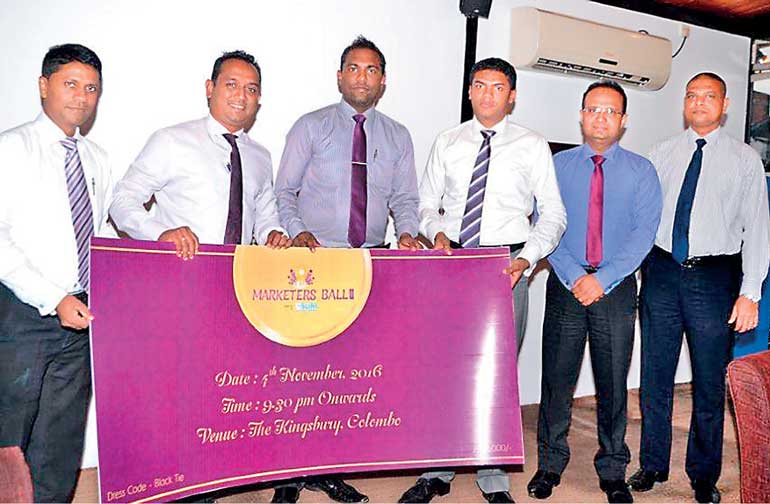 Thinking new, making a change and setting up trends are what marketers do. They see tomorrow and beyond in the present and prepared for it. Thinking of future generations of marketers and aiming to bridge the past, present and future on a national scale, 'Marketers' Ball 2016', organised by the national body for marketing, the Sri Lanka Institute of Marketing (SLIM), is all set to be launched on 4 November at The Kingsbury Hotel with the participation of marketing professionals from around the country.

Marketers' Ball 2016 will feature well-known bands The Marians and Heat, and includes wining and dining from dinner to breakfast.

Although the Marketers' Ball is a new concept created by SLIM in 2016, the organisation has been hosting the 'SLIM Ball' over the past several years. This year it opened the doors to all professional marketers in Sri Lanka to take part in this grand occasion so that this annual platform would provide networking opportunities and an eclectic mix of entertainment.

The new logo of this innovative initiative was unveiled on 24 July 2016 at the SLIM Lounge while the official ticket presentation to the President of SLIM also took place at this occasion.

Marketers' Ball 2016 Project Chairman Manthika Ranasinghe stated at this occasion that SLIM took pleasure in initiating such a project which allows its attendees to network, reunite and be entertained.

He thanked the Council and Executive Committee of SLIM, all the sponsors already on board, its media partners and its creative agency for their generous contribution to launching this new initiative.

All marketers are invited for the event. For details contact Chamil on 0703-774 585.