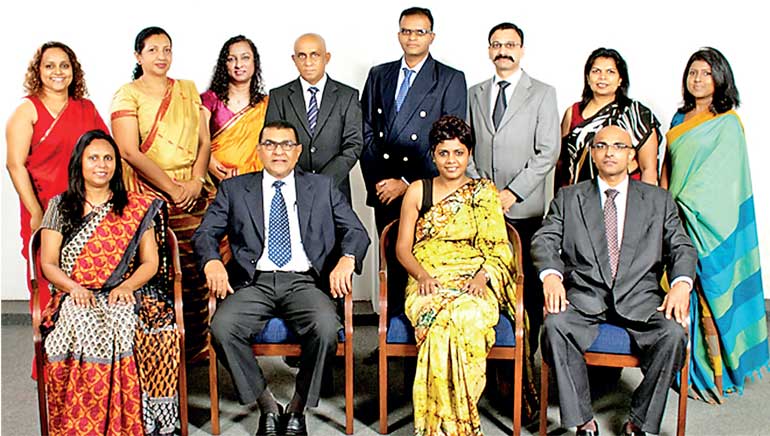 Seated from left: Roshani Fernando – Secretary (Quantum Consumer Solutions), Ravi Bamunusinghe– Immediate Past President (RCB), Himalee Madurasinghe – President (Kantar LMRB), Waruna Kathriarachchi – Treasurer (Nielsen Lanka). Standing from left: Mihirani Dissanayake – Assistant Treasurer (Kantar TNS), Chitrangani Herat Gunaratne (Quantum Consumer Solutions), Therika Meyandeniya (Nielsen Lanka), Neel de Silva (SRL), Anura Karunaratne (Kantar TNS), Sharang Pant (Nielsen Lanka), Prajika Fernando – AssistantSecretary (Kantar LMRB) and Dilini Jayasuriya (Breakthrough Business Intelligence)
At the fourth Annual General Meeting of the Market Research Society of Sri Lanka (MRSSL) held recently, current President of MRSSL Himalee Madurasinghe was re-elected for another term.

In her acceptance speech, Madurasinghe thanked the support of the society and the Executive Committee for the successful year that went by and outlined the plans for the coming year. Madurasinghe then went through a detailed account of activities conducted by the society in the past year with the aim of promoting knowledge sharing within the research fraternity.

She said it was heartening to see the spirit of togetherness demonstrated by the member agencies in order to take the market research industry of Sri Lanka to greater heights. Further, Madurasinghe also highlighted the need for increased awareness, and more involvement of the membershipin the activities of the society to enable the market research industry to deliver the best possible solutions of the highest quality to marketers.

The Executive Committee from the previous year continues with Ravi Bamunusinghe as the Immediate Past President, Roshani Fernando as the Secretary and Waruna Kathriarachchi as the Treasurer.