Leo Burnett Solutions Inc. (LBSI), the local office of the global advertising network Leo Burnett Worldwide, recently recognised Firzan Mulafer – Director, Client Services, Publicis Solutions, and Caryll Van Dort – Director, Public Relations, ARC Worldwide Sri Lanka as the agency's Star Reachers for the year 2015.

The Star Reacher award is one of the Leo Burnett network's most prestigious accolades. It is presented to Burnetters from around the world that have demonstrated exemplary qualities and have contributed significantly to the agency's overall business growth, creative work, operations and culture. A Star Reacher must truly 'reach for the stars' and deliver measurable results along the way. The award is given to a Burnetter who embodies Leo Burnett's key traits – they must have the eyes of a child, the hands of a craftsman, the heart of a champion and the soul of a citizen.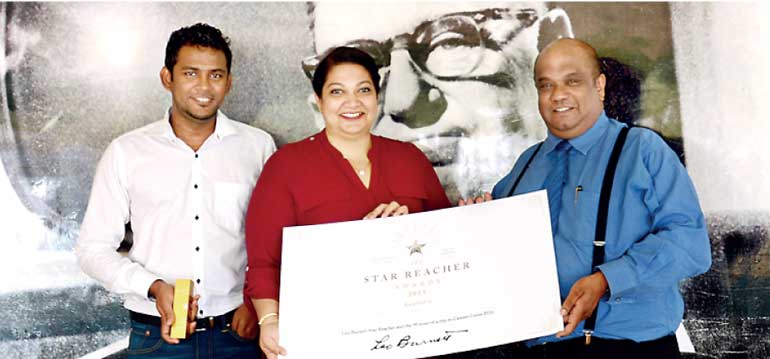 From left: Publicis Solutions Director Client Services Firzan Mulafer, ARC Worldwide Sri Lanka Director Public Relations Caryll Van Dort, Leo Burnett (LBSI) Managing Director Ranil De Silva


Firzan Mulafer leads a team that manages the agency's leading client Nestle as well as several other local and global brands. He has a Postgraduate Diploma in Marketing from the Chartered Institute of Marketing, UK and an MBA from the Postgraduate Institute of Management University of Sri Jayewardenepura, Firzan is a modern, 21st century thinker, who understands and executes integrated communication plans with the precision and grace that few can match.

Firzan has been with Leo Burnett for 9 plus years and has been instrumental in helping many of the brands at the agency reach beyond their targets and achieve success. In 2011 he was posted for 2 years to Leo Burnett Bangkok where he was responsible for engagement planning activities for P&G in the ASEAN region covering five markets. He also functioned as the ASEAN Regional Planner for Twinings of UK.

Today he leads the Publicis Solutions team and has secured incredible business results. Commenting on his win, Firzan Mulafer stated, "I am extremely honoured to receive the Star Reacher award for 2015. I have truly enjoyed every moment of my time at Leo Burnett. It has been a privilege to grow and evolve with the agency. I would like to extend my thanks to Ranil, and my fabulous team as well as all the Burnetters who have always supported me to reach for the stars. I would also like to thank my family for their continuous support with everything that I do."


With a heart as big as South America, and an effervescent personality to match, Caryll is one unforgettable Burnetter. A born people-person, this experienced professional moved into PR having made a name for herself in the sphere of Brand Management. During her career in PR, Caryll Van Dort has developed the agency's PR capabilities to be the best in the country with a client roster which has some of the most sought after brands in Sri Lanka. Caryll and her team is the only PR team to have won regional accolades for their work, including a Gold Spike.

The agency's PR team under Caryll leadership most recently won the Bronze at Campaign Asia's Agency of Year Awards for the PR Agency of the Year for South Asia surpassing several agencies in India and the region. Caryll's innate gift of knowing exactly what a client wants makes her an invaluable asset both to her clients and the agency. Her infectious enthusiasm has enabled her to enjoy unprecedented business success. Caryll has been with Leo Burnett for 12 years and has been a driving force behind Leo Burnett's ongoing success. Commenting on her recognition as a Leo Burnett Star Reacher she stated, "I am extremely honoured to receive the Star Reacher award for 2015. I am very happy and proud to be a member of the Burnett family, it has been a special privilege for me to grow and evolve with the agency. I would like to extend my thanks to Ranil for believing in me and to my team at Arc who have supported me and made this success possible."


The Star Reacher award is given to only full-time, permanent employees of Leo Burnett, who have worked for the agency for a minimum of 24 months. The recipient of the award must exhibit the qualities and drive of Leo Burnett himself, and must deliver exceptional results, passionately and consistently.

Commenting on Firzan's and Caryll's recognition, Ranil De Silva, Managing Director, Leo Burnett (LBSI) stated, "Firzan joined Leo Burnett as a Brand Manager and has over a decade risen up the ladder to his current position of Director Client Services at Publicis Solutions. His performance in fulfilling his responsibilities has been exemplary. He has always demonstrated perseverance, hard work and commitment. Firzan's ability to think for his brands has been the corner stone of his success.

"Caryll joined Leo Burnett as a Brand Manager and has climbed up the ladder to Director PR. She took up the challenge to lead our PR business unit and has achieved amazing results. Caryll is an exemplary professional and a true blue Burnetter. I am very happy that Caryll has been bestowed this recognition for her outstanding achievements. I do know that she will continue to reach for the stars and take the PR industry to new heights."

As Leo Burnett concludes yet another successful year in Sri Lanka and looks ahead to the challenges in 2016 and beyond, the agency will continue to focus on its HumanKind approach to help build powerful brands and meaningful partnerships with its clients while delivering gratifying results and gaining peer recognition in the industry.