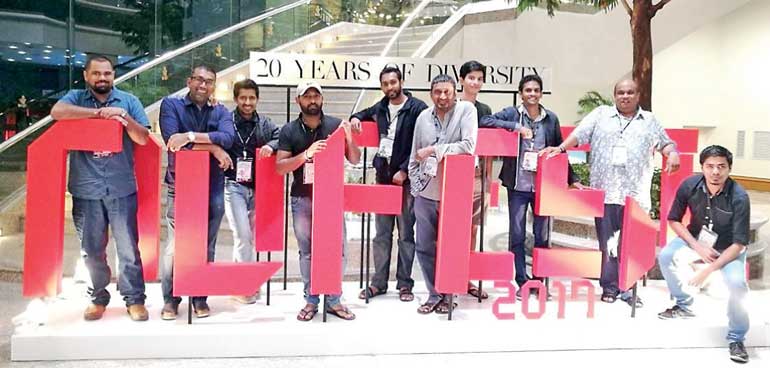 From left: Leo Burnett Sri Lanka Team at AdFest 2017 – Randev Perera, Lalindra Nanayakkara, Chamin Marasinghe, Nadeera Darshana, Falul Hallaj, Jude Benedict, Stuart Deckker, Malik Monnekulame, Ranil De Silva – Managing Director, Leo Burnett Sri Lanka & Hassan Samdin
Leo Burnett Asia-Pacific recently was ranked the third most awarded agency at ADFEST 2017, which took place in Thailand. Leo Burnett Sri Lanka's innovative idea "The Merit Bins" created to address the garbage issue at Sri Pada during the season was awarded a prestigious finalist in the Lotus Roots category.

This success helped Leo Burnett Sri Lanka to contribute 5 valuable points to the overall tally which enabled Leo Burnett Asia Pacific to be ranked 3rd at the festival. The Lotus Root award recognizes work that preserves and celebrates the rich heritage and value of each local culture.

Leo Burnet Asia-Pacific secured a total of 35 awards in a cross-section of categories including Branded Content and Engagement, Film, Film Craft, Interactive, New Directors, Promo, Special Awards, Media and Outdoor. The network also won two Effectiveness Lotus awards, one INNOVA Lotus, one Lotus Roots award and four Gold awards. Staying true to its 'HumanKind' philosophy which connects a brand's purpose with people in order to transform human behavior to build lasting connections, Leo Burnett went on to secure metals for a range of iconic brands on its regional portfolio including McDonald's, Petronas, Japan Railways, Honda, KAFA and Samsung. Samsung which is a key brand in the network's portfolio also went on to be named the 'Advertiser of the Year 2017'.

Commenting on Leo Burnett's success, Ranil de Silva – Managing Director, Leo Burnett Sri Lanka, said: "I am very happy that Leo Burnett emerged 3rd at AdFest 2017, which is a very important festival for the advertising fraternity in the region. I am equally delighted that we were able to contribute 5 valuable Points to the tally which helped the network to achieve this position. This year our delegation of 10 comprised of up-and-coming young professionals, which I believe enabled them to obtain valuable exposure to help them develop outstanding work in the future. The team comprised members from a cross section of the agency. The learning they gained will enable them to take the learning's from the festival and apply it to their day-to-day work at the agency, thereby adding greater value to our clients and the work that we produce."

A dynamic team of 10 marketing communications professionals led by renowned agency head Ranil de Silva represented Leo Burnett Sri Lanka at this year's festival, which was held under the theme "20 Years of Diversity" to celebrate ADFEST's 20-year commitment to showcasing creative excellence.

Several Leo Burnett offices contributed to this outstanding creative performance. They included Melbourne, Sydney, Bangkok, Kuala Lumpur, Manila, Tokyo, Mumbai, Beirut and Sri Lanka. ADFEST 2017 celebrated its 20th anniversary and through its journey, ADFEST has evolved into one of the industry's most loved and respected events. At this year's festival the focus was on the development of digital communications and the use of innovative new technologies in the development of advertising. The festival today plays a pivotal role in celebrating creative ideas that use insights from local culture and simple everyday life to tell powerful stories.