Apple and Google hold top 2 spots, Tesla and Dior join list
Interbrand, the world's largest and most influential brand consultancy, identifies the 100 most valuable global brands by analysing the many ways a brand benefits an organisation – from delivering on customer expectations to driving economic value.

Interbrand's Best Global Brands, the most prestigious brand ranking table globally, is based on a unique combination of attributes that contribute to a brand's cumulative value: the financial performance of the branded products and services, the role the brand plays in influencing customer choice, and the strength the brand has to command a premium price or secure earnings for the company.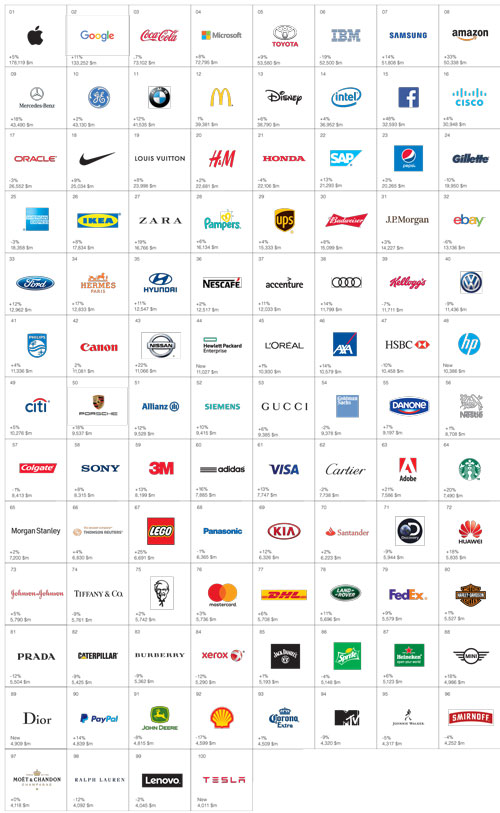 Now in its 17th year, the Best Global Brands report reveals the Anatomy of Growth, and features an insider's view of how great brands grow great businesses.

Apple, Google and Coca-Cola are the three most valuable brands in the world. For the fourth year in a row, Apple and Google claimed the top positions. Apple is the world's top brand; its brand value grew by 5% to $ 178,119 million while Google's brand value rose 11% to $ 133,252 million. Rounding out the top 10, Coca-Cola is down 7% at $ 73 billion, Microsoft is up 8% at $ 72 billion, Toyota is up 9% at $ 54 billion, IBM is down 19% to $ 53 billion, Samsung is up 14% to $ 52 billion, Amazon – the fastest growing among the top 10 – is up 33% to $ 50 billion, Mercedes-Benz is up 18% to $ 43 billion, and GE is up 2% to $ 42 billion.

With a combined 29 positions, automotive and technology brands dominate this year's report. A company that arguably straddles the two – electric-car maker Tesla – joined the ranking for the first time at #100, and other auto companies climbed. But Volkswagen slipped five places in the wake of its emissions scandal last year.

Fast food giant McDonalds fell out of the top 10, replaced by Mercedes-Benz, while premium carmaker BMW finished at #11 after a 12% surge in brand value. Also new to the list, Dior enters the Best Global Brands report for the first time at #89 while Facebook is the fastest growing, up 48% to $ 33 billion.

Retail is the Top Growing sector, increasing 19%, followed by the sporting and luxury sectors – each experiencing a 10% increase. Retail is led by Amazon, eBay and IKEA.

A slowdown in demand for fashion, particularly from China, has impacted those brands in this year's list. Prada SpA dropped to #81 from #69, Ralph Lauren declined to #98 from #91, while Hugo Boss fell out of the top 100 altogether.

"Every sector has its ups and downs, but the brands that succeed are those that have absolute clarity of brand message and consistency on the market," says Rebecca Robins, Interbrand's global director. While fashion labels have struggled to stay relevant, apparel designer Hermes bucked the trend and climbed seven places to #34. "That's partly because it is very clear in terms of consistency," Robins said. Prada, in contrast, "overextended into retail," diminishing its brand.

The world's five Top Growing Brands include Facebook (48% growth), Amazon (33%), LEGO (25%), Nissan (22%) and Adobe (21%). The Top 100 brands have a combined total value of $1,796,384m, an increase of 4.5% from 2015. The US accounted for 52 of the names, more than any other country. Germany had 10 and France picked up eight.

"It's clear the best global brands are not just weathering change, but driving it," says Jez Frampton, Interbrand's Global Chief Executive Officer. "They understand their 'Anatomy of Growth' is complex, unique and personal; they look inward and outward, expand into new markets, and create better experiences to grow their brands and businesses."


Growth hallmarks of Best Global Brands

Among this year's Best Global Brands are some common characteristics that are helping grow brands and businesses. While every brand's path is unique, those making the most impressive strides tend to defy sector norms and have a clear sense of self. These brands know when to build versus borrow, their brand and business are cohesive and built around people, and they have a clear strategy for growth.


1. A clear strategy for growth

In 2015, we experienced a significant amount of streamlining. From strategy to structure, successful brands integrated their operations for greater agility and focus resulting in unprecedented M&A and spinoff activity and restructuring. The more singular the focus of streamlined organisations, the greater their understanding of self and their clarity on what's next. Not all growth challenges are the same – whether an organisation needs to scale before leaping forward, whether it needs to break a new barrier in order to expand, or whether it needs to reinvent in order to find new relevance, what Best Global Brands exhibit is the ability for deep and honest introspection. It's about having enough understanding to ensure meaningful change and speed of action.

2. The blurring of traditional sectors

Where once clear definitions between traditional sectors provided competitive guides and measures, the more that brands create or invest in seamless experiences built entirely around customers, the less clear those lines become. This is especially true as technology crosses every sector. As these continue to blur, traditional measures and competitive comparisons change dramatically. It becomes all the more critical that real measures come from a brand's core – from its business and brand strategy. That way, growth is led by an understanding of a brand's own barriers versus category norms – and these barriers become a measure of limitations as well as the barometer for potential.

3. Continue to borrow from the best

Partnerships have played a vital part in the marketplace for some time. As brands and businesses move at an accelerated speed, making significant operational changes becomes harder to do and sustain. That's where partnerships are key. Far more than a mere marketing initiative, Best Global Brands continue to explore new ways to borrow from the best. By aligning with complementary partners, as well as acquiring or embracing what others do exceptionally well, each organisation can strengthen its core offering, extend its positioning, accelerate innovation, and create new experiences for customers. Selecting these partners or acquisitions takes great care, but the growth opportunity can be exponential.

4. Cohesiveness for customer-centricity

We've seen how technology has paved the way for innovation. Brands across all industries are harnessing its power to create unprecedented, personal experiences that zero in on the customer. To do so demands going beyond traditional branding activities. Instead, the brand must be hardwired cohesively into a company's business systems and infrastructure. The leading and Top Growing Best Global Brands understand that branding is not an exercise in vanity but a keen tool for business growth. That's what yields beautifully connected and intuitive experiences for real people.


Strong brands grow strong businesses

Interbrand's unique brand valuation methodology is a powerful tool for driving growth. At its core, there are 10 Brand Strength factors that – beyond KPIs – are potential levers for brand and business growth. But how do you activate them? Once you've assessed the performance of your brand on each factor, you can focus on the biggest opportunities and gaps to close. This helps create alignment around the quick wins and longer term activities required to grow. With knowledge, support, and a prioritised plan of action, you'll have the power to create a compelling business case for investment that puts your growth plan into action.

Methodology

Interbrand's 17th annual ranking identifies the 100 most valuable global brands by analysing the many ways a brand benefits an organisation – from delivering on customer expectations to driving economic value. Interbrand's Best Global Brands methodology was the first brand valuation method to become ISO certified. The ranking is based on a combination of attributes that contribute to a brand's cumulative value:
The financial performance of the branded products and services
The role the brand plays in influencing customer choice
The strength the brand has to command a premium price or secure earnings for the company