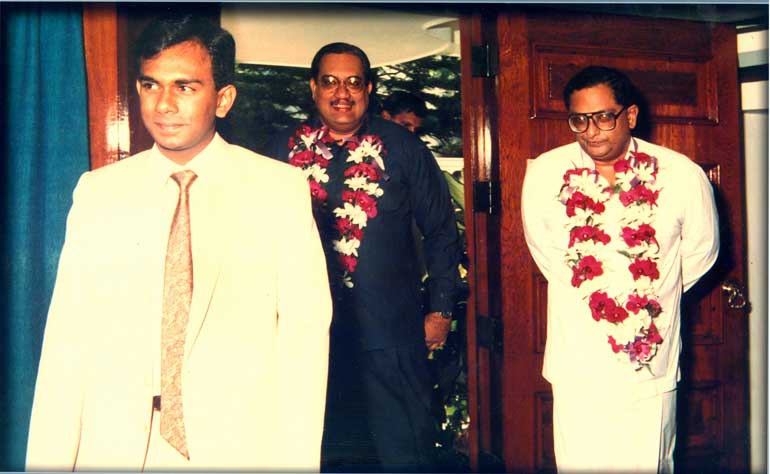 At the opening of the Rosmead Place office in 1994, with Anura Bandaranaike and Tyronne Fernando ​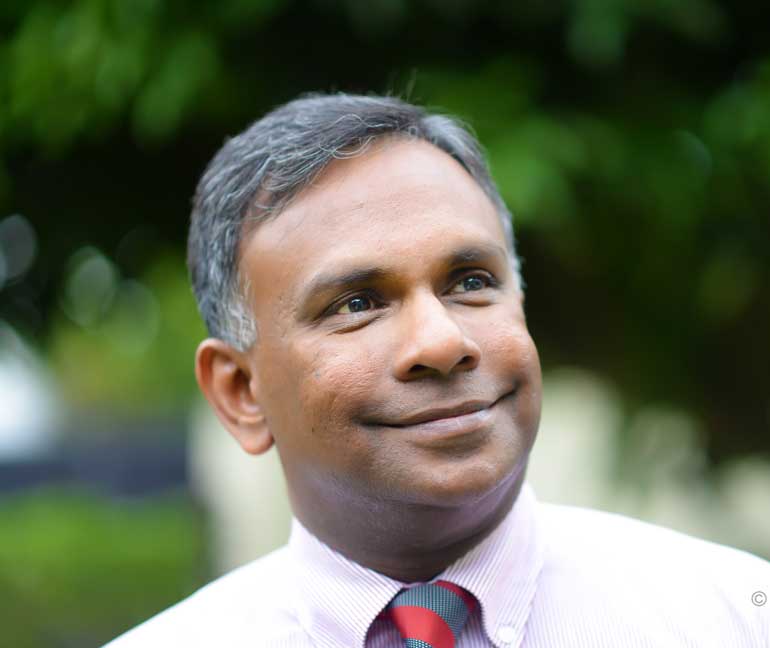 Pradeep Amirthanayagam ​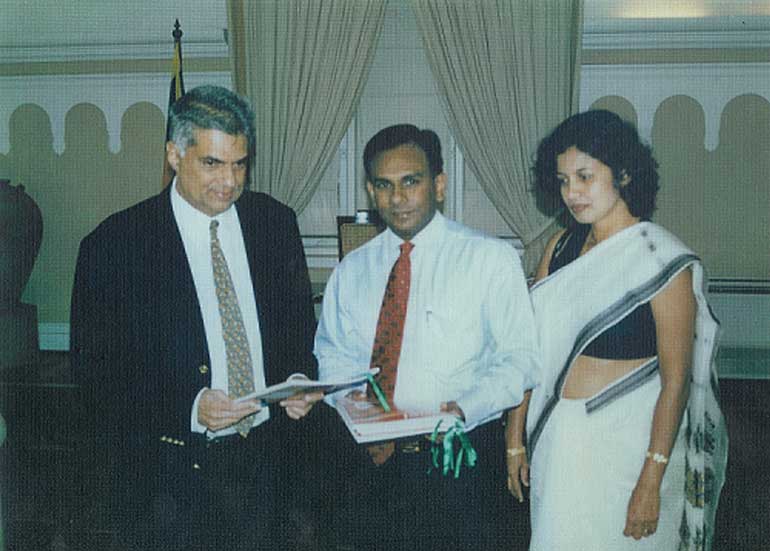 Presenting the first Noel magazine to then PM Ranil Wickremesinghe
Pioneering advertising agency giant Holmes Pollard & Stott (HP&S) is this year celebrating its 25th anniversary of creating and executing some of the most inspiring ideas seen and heard in the local media industry.

Launched in 1990 by Jeremy Holmes, Martin Pollard and Norman Stott of McMahons Point, Sydney, Australia, the agency which bears the founders' names to date is a full-service advertising agency that continues to manage brands from across the brand spectrum, ranging from FMCGs to listed blue chip financial organisations.

At the very inception, the founders invited renowned media and creative personality Pradeep Amirthanayagam as the CEO of the agency, and he has continued through the years, guiding the team as it grew in stature and reputation. With 30 years of industry experience today he functions as its Chairman and major stakeholder.

Commenting on this historic milestone Amirthanayagam said, "I was 28 years 'young' when I was entrusted with the task of building an agency from scratch! My vision was to create an ad culture that conceptualised campaigns based on the local idiom and insights. This has contributed to our success during these 25 years."

Multi-award winning HP&S is today one of the most renowned names in the advertising arena in Sri Lanka, handling all aspects of brand communication such as print, broadcast, retail, relationship marketing, online, brand concepts and strategies, brand planning, creative development and production, activation, media, advertising and public relations. The agency continues to forge lasting bonds with its diverse client portfolio and their brands to deliver impactful, creative and results-oriented marketing solutions.

The company's philosophy – the 'Orange Perspective' – reflects the multi-cultural, multi-faceted melting pot of cultures, creeds and languages that is Sri Lanka. In short, a creative vibrancy steeped in celebrating the rich diversity of our people is at the core of HP&S. Keeping with this concept, the agency has throughout the years conceptualised and executed such campaigns at the introduction of Anchor Newdale watery yoghurt, campaigns such as Govi Saviya which won a Bronze at the prestigious Chillies Awards for Seylan Bank, the launch of 'Maliban Kiri', the launch of Sri Lanka's first satellite network CBNSat (Dialog TV), and many more pioneering products and services for local and global brands. Some of the key brands handled by the agency include Rhino Roofing Products, Pathum Vimana for HNB, BMW, Hyundai Lanka, Black Knight and O3 Colognes, Panasonic Batteries, Continental Tyres, Kuwait Airways and Durdans Hospital among many more.

The agency also holds many firsts to its name apart from introducing innovative products and services to local consumers. One of these is the introduction of Sri Lanka's very first dedicated Christmas seasonal magazine 'Noel' which will be published for the 14th time this year.

In celebration of the 25th anniversary HP&S has several exciting ideas waiting to be rolled out which will engage all stakeholders of the media and advertising industry. For more information please visit the agency's Facebook page for daily updates.