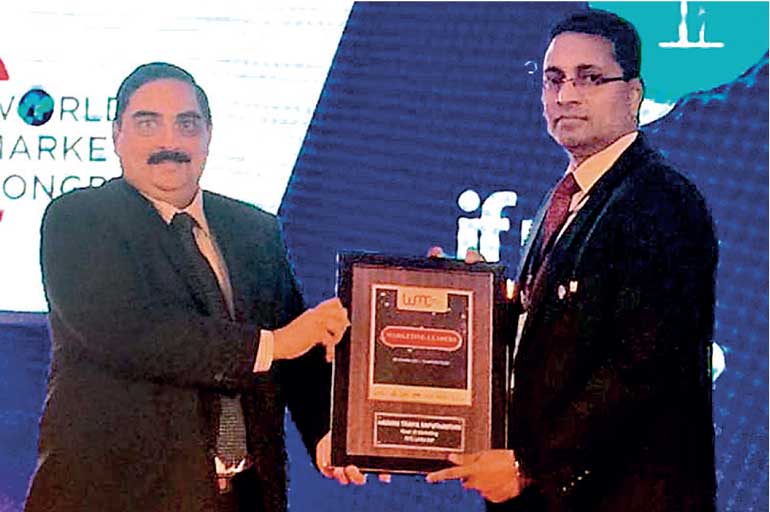 Hashan Travis Haputhanthri – Master of Science in Marketing, a successful marketing/brand strategist, eminent author cum philosopher of Travis Brandsology (the first Asian Philosophy for Brands) and the co-author on branding for 'The book for Entrepreneurs' in India, recently conferred through a global research as he belongs to the World's Top 100 Most Influential Marketing Leader.

"It was indeed a great moment where I absorb humbly. Reaching to World Top 100 is a big target. From 1991 to year 2015 journey was just fantastic. As a Sri Lankan I am humbly proud at this very moment. I should thank God for making me the best and my father, mother, grandmother, all my teachers at St. Joseph's College, Colombo 10, my marketing lecturers, mentor Ravi Liyanage and most of all my dear wife Nisanka and my daughter Yesandi Vihara whom are the powerful sources in this journey. Also, this is a great victory to all my students and for my dear organisation TVS Lanka," indicated Hashan confidently.

In 2012 after winning the SLIM Turnaround Brand of the Year Gold Award for Maliban Smart Cream Cracker, Hashan Haputhanthri was instrumental in launching Asia's 1st Brand Philosophy 'Travis Brandsology' which is the fastest selling brand book in Sri Lanka. His research Inca, Egypt and Sri Lankan for symbology and research about colour psychology/Namelogy were also significant milestones. Invention of brand marketing and non conventional marketing strategies also being endorsed by the Indian Marketing Community in 2014 was a significant achievement as a True Sri Lankan.

In 2014 his inventions and newly revamped Diploma in Strategic Brand Management for SLIM also contributed. Sri Lanka's first Brand Coaching academy 'YES Academy' and the IGNITE coaching program were also significant achievements. His humble contribution to TVS Lanka as a Head of Marketing was proved at the recently concluded SLIM Brand Excellence award ceremony where he won GOLD awards for SLIM Product Brand of the Year and SLIM Innovative Brand of the Year. Winning Silver for Turnaround Brand of the Year was also a milestone.