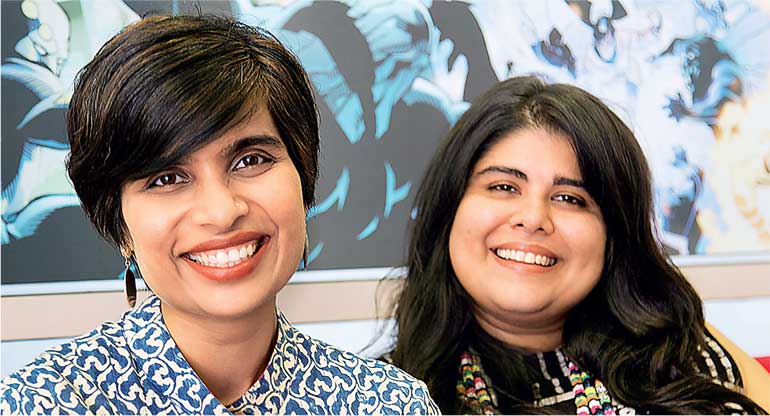 J. Walter Thompson Group Sri Lanka CEO Alyna Haji Omar (right) with Planning Director, Sapna Seneviratne
To reflect the growing importance of Sri Lanka globally, the J. Walter Thompson Group has introduced Fortune, a strategically-led consultancy. Fortune specialises in insight mining, strategy and brand development.

Giving marketers a chance to view their brands through the lens of a consumer is at the heart of Fortune's vision. Fortune believes in the use of powerful tools to gain access into the thinking and motivations of what drives today's Sri Lankan consumers. Fortune is all geared to redefine the use of multiple consumer touch points to create impactful communication solutions.

J. Walter Thompson Group Sri Lanka CEO Alyna Haji Omar said: "We are so incredibly excited by Fortune opening here in Sri Lanka as this highlights the organic growth that can occur when there is an eclectic team of people who are all committed to producing stimulating and pioneering solutions. We practice what we preach and are paving the way to address a range of issues faced by brands today, be it positioning, engagement or internal team empowerment. We will provoke and revolutionise the way campaigns will be planned going forward be it digital or offline."

Director of Planning Sapna Seneviratne stated that the focus of Fortune is simple: "We believe in providing pioneering solutions for each of our clients from insight to execution and our emphasis will very much be on creating solutions for brands and businesses by pursuing clarity and simplicity in thinking. We are keen to take on complex challenges and create new opportunities for brands to flourish. At the heart of our solutions is the belief that for brands to grow and thrive, we have to be relentlessly relevant."

The J. Walter Thompson Group specialises in creating pioneering solutions that transform brands and businesses and change the world. JWT along with Contract and Fortune offers end to end brand solutions. The group has been in Sri Lanka for over 35 years and handles a diverse portfolio of international and local brands that includes FMCG, healthcare, financial services, telcos, construction fashion, sports, etc.

J. Walter Thompson Worldwide, the world's best-known marketing communications brand, has been creating pioneering solutions that build enduring brands and business for more than 150 years. Headquartered in New York, J. Walter Thompson is a true global network with more than 200 offices in over 90 countries, employing nearly 10,000 marketing professionals. The agency consistently ranks among the top networks in the world and continues to be a dominant presence in the industry by staying on the leading edge—from hiring the industry's first female copywriter to developing award-winning branded content today.