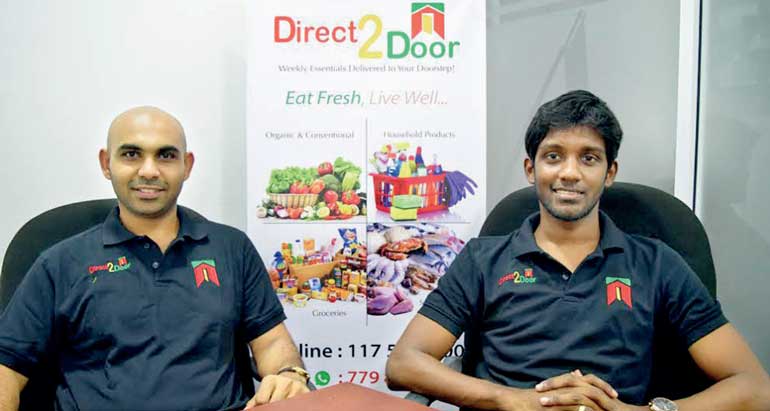 Direct2Door co-founders Thibadharshan Kandiah (left) and Prashanth Premakumar
Already firmly established with a rapidly-growing customer base, household concierge service Direct2Door is encouraging everyone living within Colombo and Greater Colombo to experience its improved utility and convenience. And not just in terms of door-to-door delivery but also benefiting from the advice and assistance provided by concierges, who are well trained to ensure all customer needs are satisfied.

To that end, new Direct2Door customers are also being offered the added incentive of Rs. 250 off on the first three purchases. Additionally, existing customers who refer the most number of friends will receive surprise gifts and additional discounts.

Further, there is an ongoing 10% discount offered on fresh vegetables, which applies to any customer, new or existing, at any time, will also be continually given; separate to new customer incentives.

To order, visit www.direct2door.lk or call on 0117 556600. Also available, ordering via Whatsapp texts on 0779884631. Bringing in even more customer convenience, Direct2Door has also started accepting credit card payments on delivery for Visa and Mastercard.

Co-founded by Prashanth Premakumar and Thibadharshan Kandiah, Direct2Door relies on partnerships with local grocers and trained independent contractors who shop the aisles and handpick the best groceries that are of superior quality, and deliver orders. In Colombo specifically, Direct2Door also offers free delivery, often within two hours, while other areas are charged nominal delivery fees. This is completely different from the norm, which is to stock groceries in warehouses for long periods, make deliveries using fleets of branded vehicles and charging more than necessary in delivery fees.

In fact, Direct2Door believes that shopping online is a much more efficient way of shopping than to physically travel to shops and find each item, one by one, sometimes at different outlets. What takes the average Sri Lankan household five hours to do on a weekly basis now takes just two minutes via its online portal www.Direct2Door.lk or over their Hotline 0117 556600.

It further guarantees only the best quality, promising to take the same care in selections as an individual puts into handpicking his or her own fresh produce and groceries, while also solving the logistical problems of finding parking, waiting in the queues to pay, etc. This service not only saves a lot of time but also improves its customers' quality of life.

According to Prashanth, "There is an art to picking the perfect tomato or even carrots—that is just one of the lessons we learned in the process of launching Direct2Door. So we always ensure that the products we handpick for our customers are the very best quality, especially the fresh produce."

Along with offering only the most carefully handpicked vegetables, Direct2Door has also become well respected for offering highly fresh seafood and meat, with its seafood in particular being cut, cleaned and packed according to its customers' desires.

He adds, "From the very beginning, we started off monitoring the purchasing patterns of a sample of people and how they shopped for vegetables and groceries all the time. Following that, we met with local vendors to supply the freshest vegetables (both organic or otherwise), as well as other grocery items, so sourcing was done with the right amount of negotiation to secure for ourselves the correct, yet small, percentage of each sale as our commission, enabling us to deliver free of charge to customers in Colombo."

Direct2Door is also unusual in that it has always restricted itself to using a word-of-mouth marketing campaign to bring in the initial orders while, at the same time, maintaining a low-cost transport fleet of three-wheelers and motorbikes for deliveries. It has additionally tapped into the advice and funding capabilities offered by members of the Lankan Angel Network, to identify a long-term growth trajectory in keeping with its future plans.

"We also capture and keep track of each and every element of a transaction, including who makes the order, etc., which helps us create a database that can later be mined for insights and future forecasting. Grocers and suppliers who were once reluctant to allow third parties like Direct2Door to offer shopping and deliveries have realised a number of benefits. For example, our own internal research shows that shoppers spend two and a half times more online than they would in stores," comments Prashanth.

Additionally, the founders of Direct2Door have a vision for the company, which is to build a business around data, and build their own proprietary predictive model, allowing them to know what a customer usually orders, the frequency of the order, products they can up-sell and cross-sell, and what is the right percentage of offer, that will increase the revenue by x%. Their vision of data heavy analytics in this business will become a reality in the next few months. And they are doing a proportion of this predictive analytics, coupled with R-F scoring techniques, to keep their business fresh and dynamic.