For the last 14 years, leading brand valuation and strategy consultancy Brand Finance Lanka analyses, values and ranks many hundreds of brands that are operating in Sri Lanka. The latest version, released in the 2017 Brand Finance Most Valuable Brands league table and related rankings are published in the Brands Annual (a Media Services/LMD publication).

Sri Lanka's most powerful brand for several years in a row has now moved up to the second slot from last year's fourth position; sitting just behind the most valuable brand which continues to be BOC. However, with a brand value gap of just Rs. 6.5 billion, it would seem as though BOC's longstanding position as the most valuable is now under serious threat.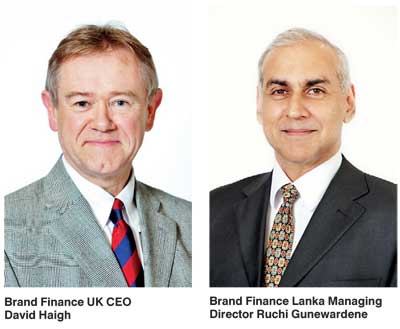 The ascendency of technology companies in the Most Valuable Brand rankings is a trend that Brand Finance has witnessed across the world in every country where the league tables is published. In fact, the world's most valuable are all technology brands – Google, Apple, Amazon, AT&T and Microsoft in that order.

Although Dialog was placed at number four last year, it was Sri Lanka's only triple A brand, which is testament to its strong brand management system. A strong brand is key to growing brand value and through relentless focus, Dialog has achieved this. Brand power is what determines the proportion of overall business revenue that is contributed by a brand.

In this fast changing world, value creation is rapidly changing from tangibles assets (land, buildings, machinery) to intangibles (proprietary products, unique systems, innovations, etc.). This is a paradigm shift in the way business value is being created. In recognition of this, Brand Finance Lanka introduced a new table in this year's analysis which is the e-commerce brand table. At the top of this table we find Dialog's eZ cash. By venturing into the cashless transaction space it is rapidly moving into financial services, a clear threat to the conventional banks.

Whilst branding is well known and accepted in consumer products and service brands, the practice of branding is often not thought to be relevant to corporates and those who are marketing to other businesses – the so-called business to business brands. To highlight the importance of this discipline, beyond the most valuable brands, a ranking of conglomerates, exporters and multinationals is also included in this year's results.

According to Brand Finance Lanka Managing Director Ruchi Gunewardene, "All of these corporates are competing for a whole host of resources, whether it is talent to run the company, building a reputation with international partners and customers or having a positive image with important stakeholders such as regulators or governments. Whichever way it is viewed, the reputation of the corporate brand precedes any discussion and managing it skilfully is key for sustained success."

Brand Finance UK CEO David Haigh adds: "A powerful brand can also protect a company's value during turbulent market conditions or challenging times for a business. The share price resilience of Samsung and Wells Fargo, after a difficult year, is testimony to how a brand can help a company ride out a storm. This is why a brand is such an important intangible asset and should be valued as such. Particularly during M&A scenarios, the fact that brand values are not factored into company accounts can mitigate against fair value being paid. Sellers ought to recognise the full worth of their brand, whilst buyers ought to factor in how far the asset of a brand can be stretched and monetised."

Brand Finance is an independent consultancy focused on strategy, management and valuation of brands and branded businesses. Since 1996, Brand Finance has performed hundreds of brand valuations with an aggregate value of over $150 billion. The valuations have been in support of a variety of business needs.

Headquartered in UK, Brand Finance has a global network across 17 countries, including USA, India, Canada, Spain, Brazil, Australia, Netherlands, Singapore and Sri Lanka.