Dhammika Kalapuge's latest program 'Service Mantras' which was launched to the public earlier this year was repeated on 21 October at The Kingsbury, Colombo. This had been the third public program and was an overwhelming success with the participation of over 200 service champions representing 50 varied organisations.

As on past occasions, the audience comprised CEOs, Heads of Human Resources and Training function, service champions, entrepreneurs and other senior management staff. The post evaluation of the program indicated a 'Net Promoter Score' (NPS) of 'plus 90%' which is considered as a significantly high rating by any standards, for a public program with a diverse audience.

This program was designed using the wealth of experience Dhammika had gained both in positions held at business corporates together with the vast amount of training experience gathered over two decades. Dhammika has over 20,000 hours of experience as a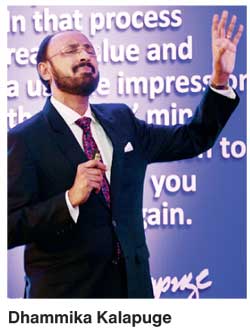 trainer in customer service giving him mastery of the subject matter. His expertise in the area of 'Service Quality', story based learning methodology, fluency both in English and Sinhala and excellent lively presentation skills has made him a much sought-after trainer today.

The new program – 'Service Mantras' introduced 16 customer service pillars to service success with an insight to actions to be practiced by service providers in their day to day activities, to adopt a 'customer service excellence culture'. Each and every 'Service Mantra' was formulated as a rhyming phrase for participants to grasp and remember easily. They were prepared with the use of common sense approach and by following basic human behaviour principles, with the aim of building customer loyalty towards organisations.

Many commended the unique approach adopted to build the program in three levels. The first level focused on the five 'Service Mantras' to be followed in making a customer 'happy'. The second level focused on further five 'Service Mantras' to achieve customer 'delight'. Thirdly, five more 'Service Mantras' were introduced aimed at creating the "WOW" feeling in customers. The final Service Mantra': 'Insist to be Consistent' dealt at length on the importance of maintaining 'consistency' at every level and at every customer contact point to build customer loyalty.

Commenting on the program one of the participants Dominos, Sri Lanka General Manager (Operations) Sashi Mohotti said, "Having worked for McDonald's, Burger King, Costa Coffee and KFC in five different countries, and having the good fortune in attending many motivational and service training courses conducted by the world's best speakers I must say Dhammika is also right there."

"The energy he personified and the way he presented each segment was excellent and a fantastic experience. The best and most impressive part for me was the way he synchronised the international norms and current global practices using Sri Lankan examples which drove the point right home for all local participants including myself. The way how he gave the global perspective with the local flavour and touch was really admirable!" he added.

Every participant was presented with a comprehensive work-book and a 'carry in purse' quick reckoner card which summarised the 16 'Service Mantras'.

Almost every participant appreciated the fact that every minute they spent at this program was educative and made them think of the importance of providing consistently outstanding customer service to their internal and external customers, and what action they should follow in setting and strengthening the 'Customer Service Excellence Culture' at their work places and even in their personal interactions.



Dhammika said, "Creating a customer service excellence culture is something that has to be done using common-sense. I am encouraged by the enthusiasm many organisations, both locally and in the region are showing, recognising the importance of this kind of programmes in order to enhance the level of service. Based on my experiences as a service recipient, frequent traveller, observer and a trainer, I try to share very simple, practical and a logical approach in educating participants to adopt the 'Service Mantras' to create great service cultures within their respective organisations.

The active interaction between the participants I experience whilst conducting these programs had always been a great inspiration to me for smooth delivery of the content."

Dhammika has a reputation of conducting inspirational programs both locally and overseas. He has conducted over 2,450 programs for over 450 organisations.

Given the popularity of the program 'Service Mantras' since it was launched earlier this year SIPCOM-1 (PVT) LTD started offering this program to companies in-house both locally and overseas.

There will be a repeat public program of 'Service Mantras' on Tuesday 22 March 2016 at The Kingsbury, Colombo.

SIPCOM-1 Ltd. that markets the programs facilitated by Dhammika Kalapuge is a company focusing on total people development. SIPCOM-1 located at Galadari Hotel organises and promotes in-house and public programs mostly on 'service quality', exclusively designed and conducted by Dhammika. They can be contacted on 2431314, www.sipcom-1.com or via email amali@sipcom-1.com for further information.