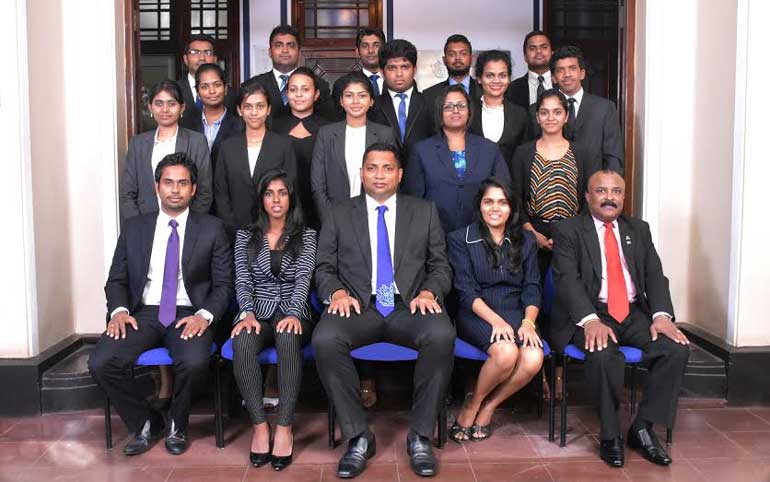 1st row (from left):Sumudu Thanthrigoda (Head of Education), Dayenkie Chandrasekera (Secretary), Sanjika Perera (Chairman), Malithi Herath (President), G.S. Sylvester (Advisor) 2nd Row (from left): Avanthi Perera, Shamani Jayakody, Kalhari Gunawardena, Angela Mahendran, Sasmila Sabdeen, 3rd Row (from left): Chaturi Liyanage, Ravihansi Palliyaguruge, Samshan Chapoor, Amritha Allahakoon, Farhan Faizal, 4th Row (from left): Fazle Fyzer (Vice President), Tharaka Warnakulasuriya, Hashan Wickramasinghe (Treasurer), Dakshitha De Silva, Ashane Wedasinghe

Absent​, Gayan Kalana Wanniarachchi, Fathima Faseeha Farhan
The Student Committee for year 2016 is ready to break the barriers and go beyond the traditional boundaries, according Malithi Herath, the newly elected CIM Sri Lanka Student Committee President.

She also added the committee will collaborate and bring together all CIM students across the country, and offer a knowledge sharing experience followed by loads of fun and excitement.

Alongside Herath being appointed President, Dayenkie Chandrasekera was appointed the Secretary, Fazle Fyzer as the Vice President, Gayan Kalana as the Assistant Secretary and Hashan Wickramasinghe as the Treasurer for the year 2016.

Commenting on the newly appointed committee, CIM Sri Lanka Head of Education Sumudu Thanthrigoda stated, "This year's student committee is a young and energetic team of forward thinking marketers with a clear objective of uplifting the marketing community in Sri Lanka. They are committed and focused in bringing together all CIM students and members across the country."

The CIM Student Committee operates under the supervision and the guidance of G.S. Sylvester (Advisor to the Student Committee), Sumudu Thanthirigoda (Head of Education) and Sanjika Perera (Chairman), and provides a professional platform for young marketers to get involved in uplifting the marketing fraternity of the country. The student committee is conferred with the responsibility to take the values of the Chartered Institute of Marketing to the marketers of the future generations. The Student Committee conducts a number of projects every year including the Future Marketers Conference in achieving its goals.